Thomas Cook Should Book a Trip to Spinoff Island
(Bloomberg Opinion) -- Fancy a summer break in the sun? Not when it's hotter than Love Island in your back garden.
The heat wave sweeping Europe has hit bookings at Thomas Cook Plc. The company said on Tuesday that full-year underlying operating profit would be at the lower end of expectations of between 323 million pounds  ($425 million) and 355 million pounds.
Though things could have been worse, that can't completely explain why the shares rose more than 4 percent. The real story is the potential for Thomas Cook to split off its airline, following a report in the Sunday Times that the company was considering selling a stake.
It said on Tuesday that while it had no current plans for a sale, it could play its part in European airline consolidation when it made sense. So it is certainly leaving the door open.
Indeed, it has already laid the groundwork, combining its airlines into a single unit. And as the group's tour operator only accounts for about half of its airline capacity, losing that division could be manageable.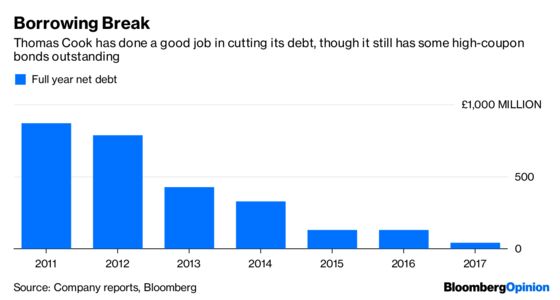 The airline will generate about 300 million pounds of Ebitda this financial year, according to estimates from analysts at Morgan Stanley.
George Ferguson, senior aerospace, defense and airline analyst at Bloomberg Intelligence, suggests an enterprise value to Ebitda multiple of around 3 times would be appropriate for Thomas Cook's airline arm. 
So that would imply a valuation approaching 1 billion pounds, before attributing any debt to the business.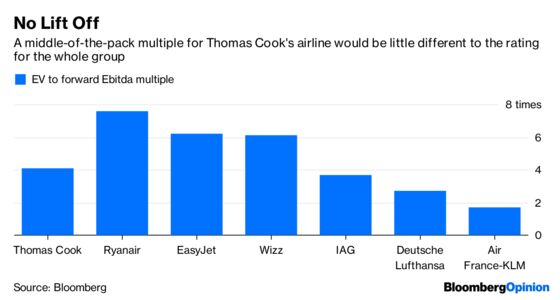 But with Thomas Cook already trading on an EV to forward Ebitda multiple of 4.1 times, it doesn't look like spinning off the airline would immediately generate significant value for shareholders. This won't be a rerun of the situation at Whitbread Plc, where an independent Costa Coffee would immediately benefit from a higher rating.
But there are still merits to a split. Selling all or part of the airline would free up cash to invest elsewhere.
Thomas Cook is developing new concepts, such as Cook's Club, aimed at younger travelers, and Casa Cook, a boutique holiday experience. That could help the company differentiate itself from online travel offerings and compete more effectively with rival TUI AG. A cash injection would help to build that business faster.
The group has also done a good job in reducing its debt burden. But paying off some of its higher-coupon bonds more quickly would give a useful boost to its financial flexibility.
There would need to be a willing buyer, however. Fosun International Holdings Ltd., which has a 12 percent stake in the group, is one possibility. Europe's airline industry is also in the midst of consolidation. 
A full sale or spin-off does create an additional burden: The Thomas Cook tour operator might struggle to meet its booking obligations if there were to be a broader airline capacity crunch, as it wouldn't be able to rely on having first call on the group's fleet.
Still, this looks like a risk worth taking. A split might be under consideration. But with activist investors showing an interest in the sector, Thomas Cook is unlikely to be able to impose delays for long.
This column does not necessarily reflect the opinion of the editorial board or Bloomberg LP and its owners.
Andrea Felsted is a Bloomberg Opinion columnist covering the consumer and retail industries. She previously worked at the Financial Times.