There's Another Reason Samsung Profit Missed
(Bloomberg Opinion) -- Don't just blame weakening device demand for Samsung Electronics Co. posting a drop in income and missing analysts' estimates.
While smartphone sales fell by more than 20 percent in the latest quarter, ended June 30, chip demand rose while executives also trimmed corporate sales, general and administration (or SG&A) expenses by 15 percent. The result was a 6 percent advance in operating profit. Both the chip and consumer-electronics divisions posted higher operating income, while the IT and mobile divisions saw slimmer profit.
Despite the improvement in operating profit, Samsung reported second-quarter net profit of 11.04 trillion won ($10 billion), a whisker below last year's 11.05 trillion won. (What Samsung calls net profit in its investor presentations is actually akin to income from continuing operations, and is the basis for my calculations here because it represents how much money the company itself made during the period. Net income after minority interests rose, though the Suwon-based company fell short of the 11.6 trillion won average of estimates compiled by Bloomberg.)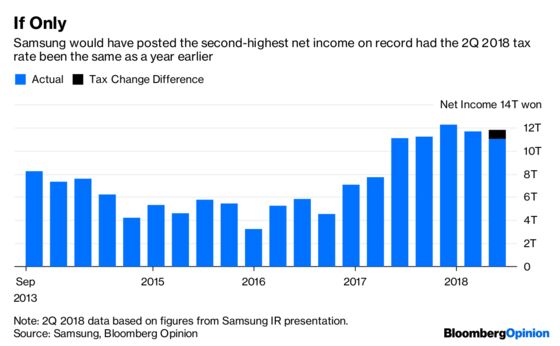 Either way, blame the taxman for the disconnect between improved operating numbers and weaker profit. The South Korean giant's tax bill was around 28.3 percent of pretax net income, five percentage points higher than a year earlier and the biggest chunk since the fourth quarter of 2013. In fact, I calculate that it's the second-highest tax rate in more than a decade.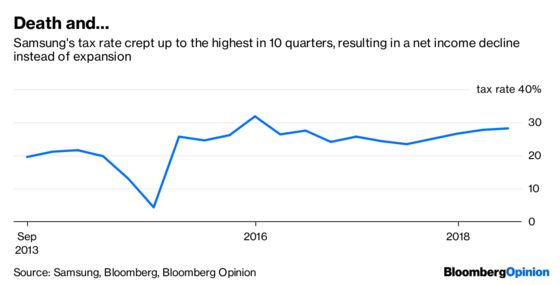 Had Samsung paid the same tax rate as the June quarter of 2017, net income would have climbed almost 7 percent to the second-highest level in company history.
While Samsung may be the strongest name in memory chips, displays and phones, there's no beating the reality of taxation. As investors slice and dice each of Samsung's divisions for clues to the future, they'll need to keep an eye on this equally powerful swing factor.
This column does not necessarily reflect the opinion of the editorial board or Bloomberg LP and its owners.
Tim Culpan is a Bloomberg Opinion columnist covering technology. He previously covered technology for Bloomberg News.