Both Sides Win in Sony vs. Nintendo Battle Royale
(Bloomberg Opinion) -- A key takeaway from Sony Corp.'s and Nintendo Co.'s earnings Tuesday is that console games are alive and well.
While both companies reported softness in sales and shipments of console hardware — the PS4 and Switch, respectively — revenue and unit sales from software remained strong. That means consumers who bought the devices over the past year or so aren't bored, and weren't lured to smartphone platforms to the extent many feared.
New mobile versions of PUBG and Fortnite, both distributed by Tencent Holdings Ltd., raised the specter of gamers spending more time on the ubiquitous smartphone rather than more luxurious but less convenient consoles. Both titles can be thought of as gaming versions of the "Hunger Games" plot, and are addictive (confession: I'm a mobile PUBGer). 
If gamers are indeed trading in console time for mobile time, it's not yet showing up in the numbers at Sony and Nintendo.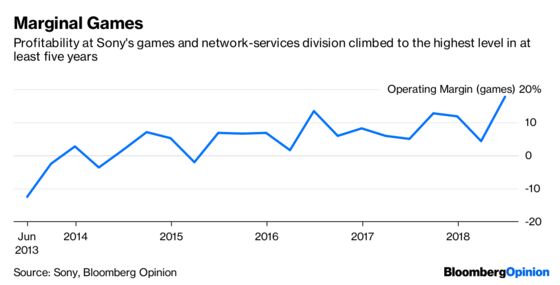 A crucial metric to watch is digital download ratios. At Sony, 43 percent of all full-game software units were bought via downloads, the same proportion as in the prior quarter and higher than a year earlier. At Nintendo, 24.2 percent of dedicated video-game software sales were digital, also unchanged from the prior period and substantially higher the same quarter of 2017.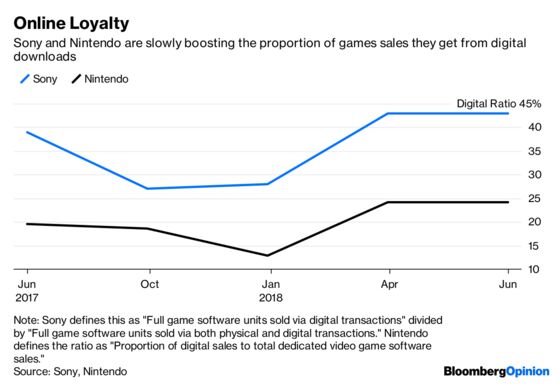 While one advantage of digital over physical is a relatively low distribution cost, the real benefit comes from removing the friction to spending. Consumers who sign up for an account and connect a credit card are more likely to spend on impulse. That's one of the great benefits of smartphone gaming, and one that has attracted the ire of regulators.
With both companies likely to boost their promotion of subscription services — Sony with PlayStation Plus and Nintendo offering Switch Online — we could see increased loyalty and time-on-platform. That loyalty may be the biggest competitive advantage the companies have against the onslaught from smartphone games.
This column does not necessarily reflect the opinion of the editorial board or Bloomberg LP and its owners.
Tim Culpan is a Bloomberg Opinion columnist covering technology. He previously covered technology for Bloomberg News.