Smartphones Didn't Kill the Robots After All
(Bloomberg Opinion) -- The smartphone hasn't killed machinery makers after all. Apple Inc. has yet to release a new version of its iPhone, but the trough in demand looks to be ending anyway. The business cycle lives.
Exhibit one: Fanuc. The Japanese automation giant gave a rosier outlook than three months ago, raising its estimates for full-year operating and net income by more than 5 percent. Costs are expected to be down 2 percent. The company, which is typically conservative in its forecasts, predicted a more than 15 percent gain in net income for the first half through September.
That's a turnaround from a severely downbeat outlook in April. Then, Fanuc said operating profit would fall 34 percent for the year versus consensus estimates of 9 percent growth. Investors took it to mean the smartphone boom was over. Fanuc's stock plunged as much as 14 percent the next day.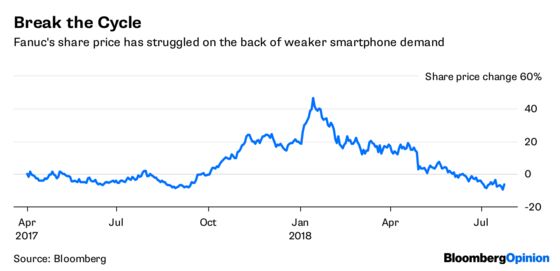 In the fiscal first quarter, sales at Fanuc's factory automation segment rose 24.5 percent from a year earlier and robot sales climbed 7 percent, driven by demand in Asia and Europe. Robomachines — the segment that includes machines for phone casings — registered a decline of about 6 percent overall and 8 percent in China, a casualty of the sluggish iPhone supply chain.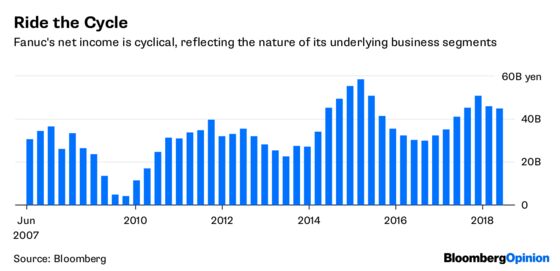 The results should calm investors. About a quarter of Fanuc's revenue is exposed to "demand headwinds" that equated to a 12 percent top-line hit in the first quarter, according to a Bernstein analysis. Besides weaker demand from smartphone makers, angsty car companies in the U.S. remain on tenterhooks, distracted by trade threats and grappling with the uncertain future of electric vehicle strategies and the broader auto market.
But other segments continue to grow, as first-quarter results hinted. As we explained here, Japan's machinery orders continue to rise well above previous peaks. In addition, there are multiple capital-expenditure cycles that aren't in sync. Just as China's move to stimulus this week boosted construction machinery stocks, a new iPhone that usually comes out in September will breathe fresh life into Fanuc's robodrill business. That's how supply chains work.
In keeping with its cautious ways, Fanuc warned again that the broader environment remains "difficult and unpredictable." Its estimates are based on a yen to U.S. dollar exchange rate of 100, considerably stronger than the 110 average that's prevailed over the past year.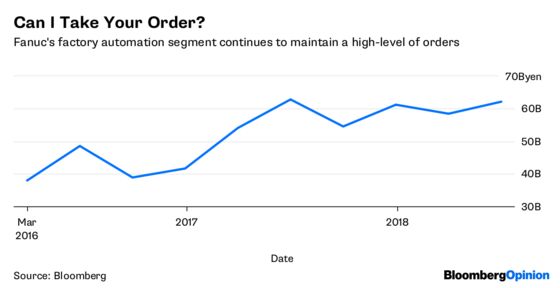 Fanuc's automation business, which isn't tethered to Apple or exposed to the U.S., is growing. It accounts for between 20 percent and 30 percent of revenue, with customers mostly Asian and China-driven companies. Meanwhile, demand in the European and Asian auto industry is rising, along with general machinery sales across Asia.
Investors who beat down the shares of Japan's industrial automation giants this year should remember: The cycle always turns.
This column does not necessarily reflect the opinion of the editorial board or Bloomberg LP and its owners.
Anjani Trivedi is a Bloomberg Opinion columnist covering industrial companies in Asia. She previously worked for the Wall Street Journal.