Louis Vuitton Handbags Can Conquer a Trade War
(Bloomberg Opinion) -- When the going gets tough, the tough reach for their Louis Vuitton handbags.
LVMH, the owner of the brand, proved it with its forecast-beating sales and profit report for the first half of its financial year. Second-quarter organic sales growth also exceeded analysts' expectations across the group, and came alongside a healthy 2.9 percentage-point increase in the group operating margin to 21.4 percent.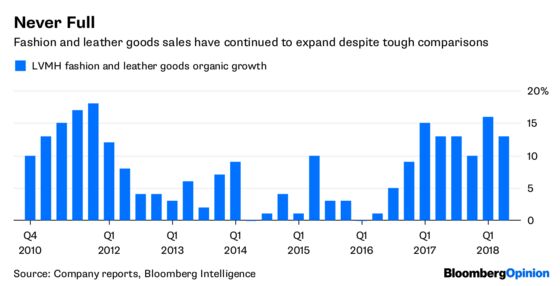 The company said late Tuesday it was seeing no signs of weakness in the crucial Chinese market, which accounts for a third of sales in the global luxury industry. In fact, the Louis Vuitton brand enjoyed a slight increase in demand from the nation's customers in the second quarter compared with the first.
There are risks ahead. Trade tensions with the U.S. threaten to undermine economic growth and dent Chinese consumer confidence. And shoppers there have already been buying with gusto for nearly two years now.
But even if industry growth does cool, LVMH's scale and broad range of businesses give it some protection. It won't be immune to Chinese weakness, but the group's strong selection of top-end brands such as Christian Dior and Celine, broad geographical exposure, and presence in more-defensive sectors such as beauty should help it withstand a market meltdown better than most.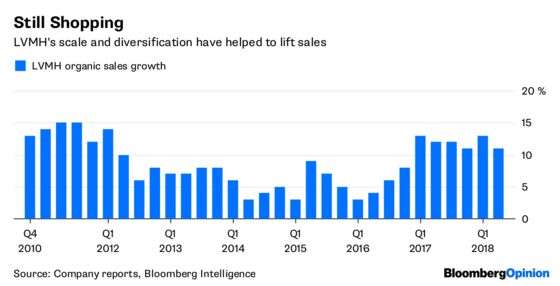 In fact, LVMH could actually be a winner in such circumstances. Bernard Arnault, LVMH chairman and CEO, has bemoaned the high valuations of luxury assets. A crisis would see other groups suffer, and prices fall.
As his company generates so much cash, there could be an opportunity to pick up useful additions to its portfolio. It has room to expand in watches and jewelry. Chanel would be a coveted asset if it were ever to come up for sale, according to Luca Solca, analyst at Exane BNP Paribas.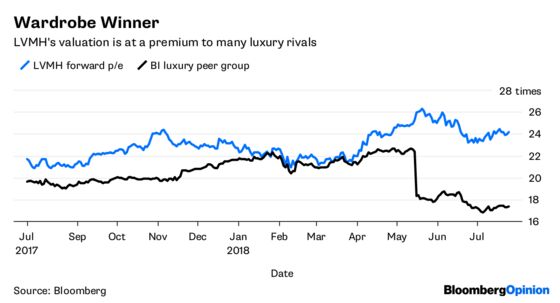 Shares in LVMH rose about 2.2 percent Wednesday, taking the gain for the past 12 months to about 40 percent. They trade on a forward price to earnings ratio of 24 times, a deserved premium to the Bloomberg Intelligence luxury peer group.
Top-end brands are usually at the cutting edge of trends. At least with LVMH's recent strong performance, and ability to withstand an industry downturn, it shouldn't become a victim to any China-induced style crisis.
This column does not necessarily reflect the opinion of the editorial board or Bloomberg LP and its owners.
Andrea Felsted is a Bloomberg Opinion columnist covering the consumer and retail industries. She previously worked at the Financial Times.