For Deutsche Bank's Escapee, Freedom Is No Reward
(Bloomberg Opinion) -- Four months after escaping from the claustrophobic embrace of Deutsche Bank AG, DWS Group is finding life as a free agent somewhat tougher than it might have hoped.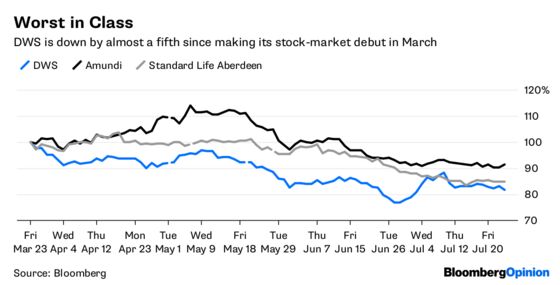 In March, Deutsche Bank sold 22.25 percent of its stake in DWS at 32.50 euros a share, valuing the offshoot at 6.5 billion euros ($7.6 billion). The decline since then has wiped more than a billion euros off the new company's market capitalization.
In fairness, DWS is far from alone in its misery. The ills plaguing the fund-management industry — including increased regulatory scrutiny, a flood of money into cheap index-tracking funds and a resulting downward pressure on fees — have trashed returns for almost all of the large-cap investment managers tracked by Bloomberg Intelligence.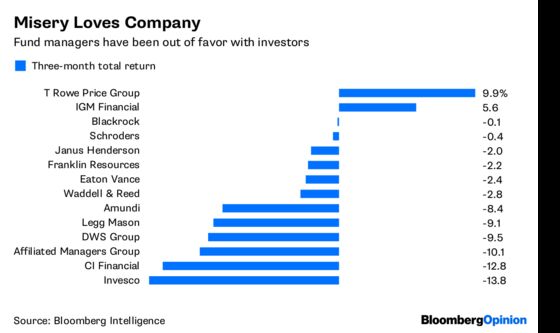 But in its first earnings release as a solo firm, DWS is already missing its self-set goals. In March, chief executive Nicolas Moreau said DWS was targeting net new money growth of about 3 percent annually in its first few years, rising to 5 percent. On Wednesday, it said it was "unlikely" to hit that target this year. For "unlikely," read "impossible."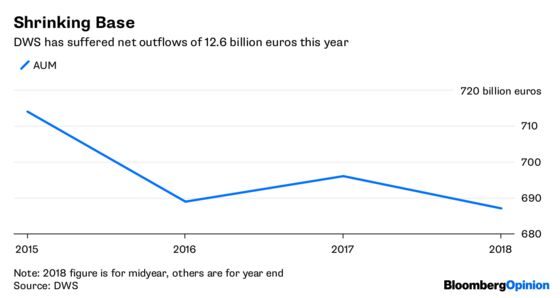 The firm managed to keep its management fee margin at 30.7 basis points, within a basis point of where it's been since the end of 2015 and in line with its medium-term target. More worrying is its seeming inability to control costs.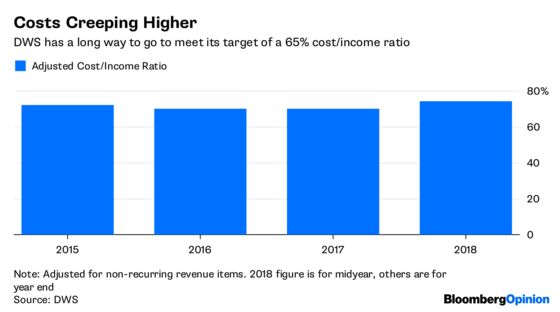 DWS has a goal of achieving a cost/income ratio of less than 65 percent, but the figure crept up to more than 74 percent at the end of June. By contrast, Europe's biggest fund manager, Amundi SA, cut its cost/income ratio to just 50.7 in the first quarter.
The Deutsche spinoff says it's on track to achieve 20 to 30 percent of its medium-term cost savings target of 125 million euros to 150 million euros in fiscal 2018. With net flows unlikely to replenish assets under management, DWS needs to be even more parsimonious if it's to stem the post-IPO slump in its share price.
This column does not necessarily reflect the opinion of the editorial board or Bloomberg LP and its owners.
Mark Gilbert is a Bloomberg Opinion columnist covering asset management. He previously was the London bureau chief for Bloomberg News. He is also the author of "Complicit: How Greed and Collusion Made the Credit Crisis Unstoppable."