Facebook's Financial Facade Develops Cracks
(Bloomberg Opinion) -- Facebook Inc. hasn't been able to do anything right — except when it comes to making money, where it could do nothing wrong. 
That changed on Wednesday, when the company posted disappointing growth in revenue, profits and the number of visitors to its digital hangouts. Results are still stellar by the standards of most companies, but investors in fast-growing technology companies react badly when their high hopes aren't met, as Netflix recently found out. Facebook hit a record stock price on Wednesday, but after the release of its financial results, its shares dropped a stunning 24 percent in after-hours trading.
And no wonder. The company's financial results, and especially its glimpse into a more pessimistic financial future, were utter disaster for investors. If what the company predicts comes to pass, the internet's best combination of fast revenue growth and plump profit margins is dead. All at once, it seemed, reality finally caught up to Facebook.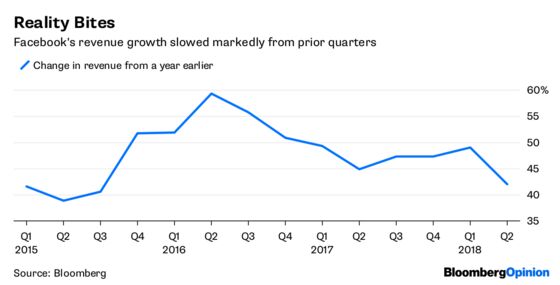 The company has spent the last two years in near-constant crises about election interference on its social network, lax oversight of users' digital information, the viral spread of misinformation, and incitements to violence. Those crises were made worse by Facebook's inability to police itself and its failures to explain how and why it does what it does. But in Facebook's short life, it has been adept at two things: figuring out what people want to do on the internet, and coming up with inventive ways to let companies pay for the privilege of digitally interacting with them.
The second-quarter results could be a blip, but there were plenty of red flags that Facebook is finding it tougher to deliver on both of its strong suits. 
Revenue rose 42 percent from a year earlier. Again, that's heady by the standards of most companies, but it was the slowest growth rate since 2015 and the first time in three years that Facebook fell short of analysts' average revenue estimates. Rising costs were another concern. Expenses to operate Facebook's computer systems, hire engineering employees and more rose to the point where its operating costs increased faster than revenue. That's not something investors are used to seeing from Facebook. 
Executives said expense growth will continue to outpace a much slower pace of sales growth. And more worryingly, the company in part blamed that old scapegoat of "currency headwinds" — the excuse of the pokey and broken company. Beyond this year, the company predicted its operating profit margins will decrease by roughly 10 percentage points from where analysts have expected them to be in coming years. Every minute on Facebook's conference call with investors was littered with unhappy bombs. 
People don't seem to be hanging out on Facebook as much, either. The company posted the slowest growth rates ever in the numbers of people who surf Facebook or its Messenger app at least once a month and at least once a day.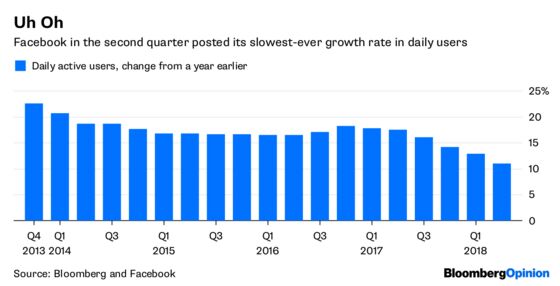 It could be that there's a ceiling to Facebook's growth now that many of the world's internet users are already on it. But it may also be that years of bad headlines about Facebook, and people's reported distaste for using the social network, are starting to show up in softening user numbers. In the U.S. and Canada, the number of daily users flatlined. When those numbers inched down at the tail end of 2017, investors panicked, but Facebook said it was a temporary phenomenon. Maybe it wasn't. 
The company that sailed through one financial success after another in recent years has run aground. Facebook has tended towards extreme conservatism in its financial forecasts, only to easily hurdle over its own low bars. 
But executives on Wednesday were talking about how myriad changes to make Facebook less riddled with misinformation, more attuned to newer trends such as video-and-photo diaries, and — yes — perhaps less creepy about user information may result in a Facebook we haven't seen since its shambles of an IPO. Facebook's perpetual motion machine of revenue, profits and user growth may finally be running out of steam.
This column does not necessarily reflect the opinion of the editorial board or Bloomberg LP and its owners.
Shira Ovide is a Bloomberg Opinion columnist covering technology. She previously was a reporter for the Wall Street Journal.