Elon Musk Faces New Tesla Foes in Default-Swap Market
Bloomberg
Opinion
(Bloomberg Opinion) -- Tesla Inc. Chief Executive Officer Elon Musk already had no shortage of supporters and enemies before the company reportedly asked some suppliers to return a portion of their payments. Since that news broke, he can add traders in credit-default swaps to his list of naysayers.
The cost to insure against Tesla failing to make debt payments surged this week, with five-year credit-default swaps implying a 42 percent chance of a missed debt payment in the next half-decade. As Bloomberg News's Claire Boston reported, at those levels, it costs about $2 million to protect $10 million of debt. The derivatives go so far as to imply a 10 percent chance of default in the coming year, even though Tesla projected adequate liquidity for at least 12 months in its first-quarter filings.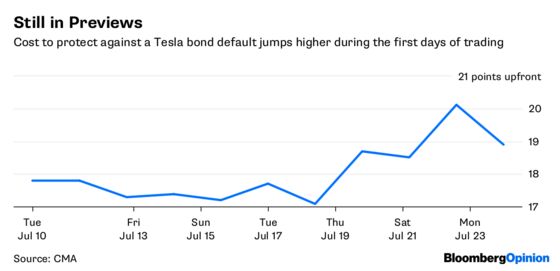 Trading in single-name default swaps has been difficult ever since the financial crisis because few firms have ample capacity to take on the associated risk. It's no different in Tesla's case. The contracts began trading only earlier this month, according to data compiled by Bloomberg, after a campaign by JPMorgan Chase & Co. to make a market. According to Barron's, which chronicled the bank's efforts, some in the market say as few as five credits have seen a "reasonable volume" of CDS trading start up since the crisis.
Now, Tesla is flashy and controversial enough to potentially join that group in the coming years. Already, the volatile bond price swings this week were enough to get Goldman Sachs Group Inc. to quote CDS prices, too, according to Reuters. But even then, market makers face another problem: Tesla has only one bond to reference. By contrast, other companies tend to have a wide array of debt, which increases the number of investors potentially interested in default protection.
Tesla sold a $1.8 billion bond last year, which matures in August 2025. It priced at par with a 5.3 percent coupon, a record low for a security of its rating and maturity, Bloomberg's Molly Smith and Sally Bakewell reported. That rating, of course is junk — Caa1 by Moody's Investors Service and B- by S&P Global Ratings.
The underlying bond trading gives a less alarmist view of the company's prospects. While yields are almost 2 percentage points higher than when the debt originally priced, it's still below the levels from late May. Now, perhaps it would have cost even more to insure the debt then if the CDS contracts had been trading. But it's slightly disingenuous to say that derivatives traders are paying more than they ever have to save themselves from a Tesla default when the bonds are trading at 90 cents on the dollar, rather than 87.
The stock price tells a similar story. Tesla isn't at its highest point, but also not plumbing fresh lows, either. Shares, at about $300, are right around the two-year average, despite the enormous interest in short-selling. Investors will get their next big dose of information when the company releases earnings in a week.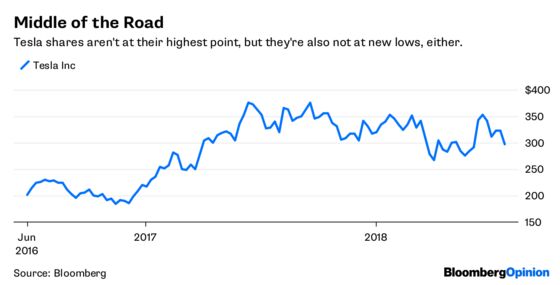 The CDS cost has retreated, too, from 20.1 points upfront to 18.9, so it's possible that the relatively illiquid contracts got ahead of themselves. Naturally, that hasn't stopped Musk's critics from seizing on the market as just another example that the company is operating on borrowed time.
If this week's pickup in activity is more than just a flash in the pan, the CDS market could serve as a way to monitor the conviction of Tesla's foes going forward. Musk hasn't been shy about trolling equity short-sellers. Maybe the sign to take default swaps seriously is when he goes after them as well.
This column does not necessarily reflect the opinion of the editorial board or Bloomberg LP and its owners.
Brian Chappatta is a Bloomberg Opinion columnist covering debt markets. He previously covered bonds for Bloomberg News. He is also a CFA charterholder.