Draghi Needs a Pre-Beach Communications Cleanup
(Bloomberg Opinion) -- European Central Bank President Mario Draghi has a bit of clearing up to do before disappearing for the summer. There are some loose ends left over from the ECB's June 14 decision to bring QE to a halt.
Unusually for the ECB, its communications have become a little scrambled both on forward rate guidance and on how it intends to reinvest maturing bonds to maintain its stock of securities. He really ought to use Thursday's press conference after the policy decision to shed a bit more light on how the Governing Council will shift to the post-QE environment — or at least put a timetable on when decisions will be made.
Draghi softened the end-to-QE blow with a long-range commitment to keep interest rates on hold "through the summer of 2019." This straightforward statement has, bizarrely, become a minefield because the bank translated it differently in different languages (it became "at least until the summer of 2019" in French, which could give us a rate increase in June).
The president needs to cut off this debate and clarify what the council means; otherwise short-dated yields will only creep up — undermining the ECB's smooth transition from the end of QE. To be fair, at the June 14 press conference he was quite specific in English, so the confusion is curious. But he will need to drum the message home that rates will not move until after the summer of 2019.
And it's not as if the latest economic reports give him cause to change his view. Though softening purchasing manager indexes suggest the euro area recovery is losing steam, otherwise, not much has changed since the last policy decision.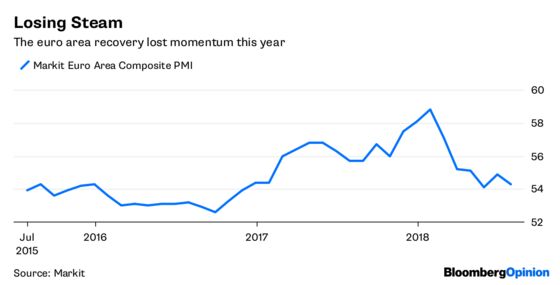 Officials also have to decide how to maintain their existing stock of bond purchases. Over the past month, investors have been subject to an unusual range of trial balloons floating potential strategies. This is whiplash-inducing.
Most intriguing is whether the ECB decides to adopt its own version of "Operation Twist," where it would reinvest maturing bonds into very long-dated securities. The idea that this would become policy has already changed the shape of the French yield curve — it's flattened on expectations the duration of the ECB's reinvestments might be extended. If this is not going to happen, then Draghi needs to firmly shut that debate down.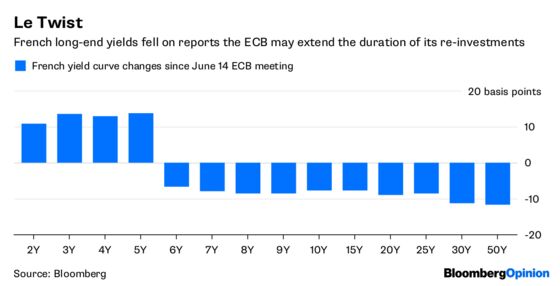 Another move could involve extending the current three-month time-frame for maturing cash to be reinvested. This would greatly increase the flexibility of the ECB's war chest, in effect retaining a lot of the "big stick" of QE in capping yields. It would also prevent unfortunate incidents such as the sharp drop in German yields when officials made large-scale bund reinvestments in May, just as the Italian political turmoil was raging.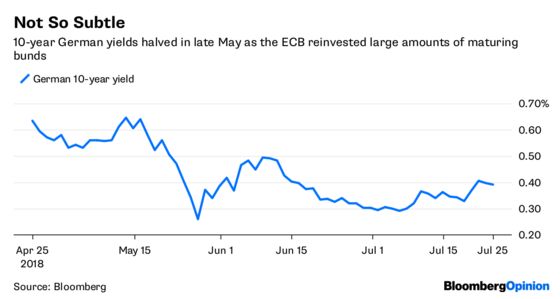 The June meeting involved a lot of important changes, but some of the message has come unstuck. Draghi needs to glue some of it back down before relaxing in the sunlounger.
This column does not necessarily reflect the opinion of the editorial board or Bloomberg LP and its owners.
Marcus Ashworth is a Bloomberg Opinion columnist covering European markets. He spent three decades in the banking industry, most recently as chief markets strategist at Haitong Securities in London.