Deutsche Bank Is Playing for Time
(Bloomberg Opinion) -- The early release of some of Deutsche Bank AG's quarterly results last week was a hint that analysts had become too gloomy about the battered lender's fortunes. But the full figures published on Wednesday are a reminder that much of that gloom is justified.
CEO Christian Sewing's strategy of playing for time — cutting costs while protecting the business's core trading units — may make sense in the short term. But it will bring regrets if the environment gets worse.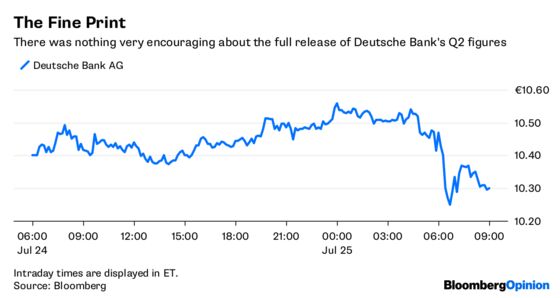 Expectations for Deutsche Bank's earnings have been crushed over the past six months as the messy appointment of a new CEO, a less-than-radical strategic plan and a credit-rating downgrade pointed to a future of managed decline.
Signs that the bank had managed to staunch the fall in revenue in the second quarter, coupled with better-than-expected profit at the investment-banking unit, seemed to bring some hope. But the fine print of the release isn't very encouraging.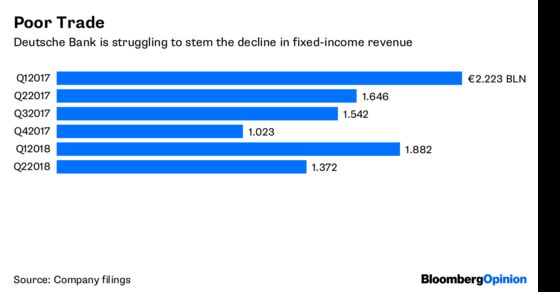 Deutsche Bank's fixed-income trading division, perennially held up by management as the core strength of the bank, posted a 17 percent decline in revenue — far worse than its U.S. peers, which enjoyed growth of about 5 percent. Equities trading revenue fell 6 percent, again worse than rivals.
The firm's plan to invest in its trading business looks very much like a management team running hard to stand still given how much market share the bank has lost. With some cost cuts, the bank hopes the strategy will allow it to escape its vicious cycle of job cuts triggering revenue declines that require further reductions in headcount.
But the plan will take many years to complete, and there wasn't much sign of improvement in the second quarter. The bank's headcount stood at 95,429 at the end of June, down 1 percent on the year-earlier period. Adjusted costs were flat in the second quarter. Considering Deutsche is promising an 8 percent reduction in costs by 2019, a lot rests on the next 18 months.
Sewing protests that his strategy doesn't depend on an increase in interest rates in the euro zone, something that would help banks across the region. But a lot still rides on the broader environment holding up over time.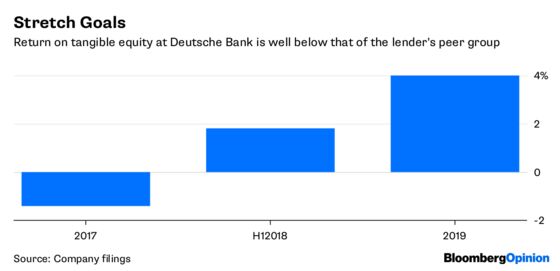 Deutsche Bank's return on tangible equity was a risible 1.8 percent in the first half — a period of historically benign credit losses, positive global economic growth and near-record stock-market prices. Deutsche wants to get the figure to more than 4 percent in 2019. As unambitious as that sounds, it's hard to see how that would be achievable in a period of turmoil.
Deutsche is an objectively weak bank with an objectively weak valuation. It trades at a 70 percent discount to book value, the steepest in its peer group, meaning that a lot of potential upside rides on investors' ability to call a stop to the rot. Making that call is still one for the brave.
The routes to more radical action, whether through mergers or a deeper restructuring, still seem blocked off. Policymakers and regulators may yet have to decide on Deutsche Bank's future.
This column does not necessarily reflect the opinion of the editorial board or Bloomberg LP and its owners.
Lionel Laurent is a Bloomberg Opinion columnist covering finance and markets. He previously worked at Reuters and Forbes.