In Netflix Battle, Captain Kirk Shows the Way
(Bloomberg Opinion) -- Carolyn McCall, the new boss of ITV Plc, wants the British broadcaster to boldly go where its American peers have gone before.
Legacy U.S. networks have over the past 18 months accelerated their push into subscription video-on-demand services as advertising revenue tumbles under the onslaught from the web and the streaming services. Early experiments included CBS Corp.'s decision to broadcast the latest television iteration of "Star Trek" solely via its on-demand service.
ITV aims to follow suit, with its own subscription video product. There are talks about a possible joint venture with the BBC and Channel 4, according to The Times of London.
It's perhaps an overdue effort. Total advertising revenue at the U.K. company climbed just 2 percent in the first half of the year, while online ad revenue jumped 48 percent. That suggests that its television ad sales were at best flat — ITV doesn't break out how much revenue comes from TV versus the web.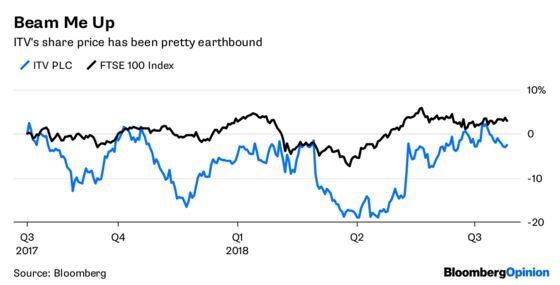 The London-based broadcaster thinks there's appetite for British shows in its home market, which will convince viewers to shell out even if they already pay for Netflix Inc. or Amazon.com Inc.'s Prime Video. McCall told investors that 92 of the 100 most popular shows in Britain originate from the country.
Exclusive content clearly helps, and will be essential to differentiate it from rivals. When CBS made "Star Trek: Discovery" available solely online, it enjoyed a 20 percent spike in subscription fees. But McCall's spending plans seem almost Spock-like in their caution. She aims to spend 40 million pounds ($52.7 million) over three years improving data, analytics and marketing, and sees no need to lift ITV's 1.1 billion-pound content budget.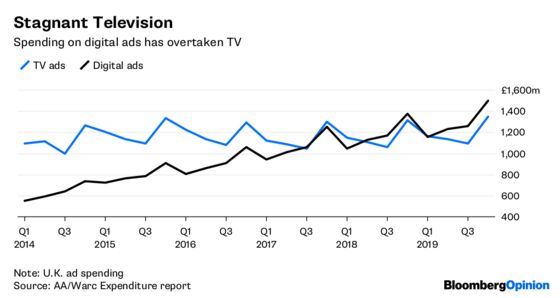 The data investment makes sense as ITV aims to suggest shows to match viewers' interests, which keeps them on its app and lets it serve up better ads. For the first time, a chief technology officer will sit on its management board. But other broadcasters have invested much more in their analytics. Time Warner Inc. spent $200 million on a majority stake in an online video specialist in 2015; Germany's ProSiebenSat.1 Media SE has spent similar on buying up web assets. ITV's total debt isn't too restrictive, at about 1.3 times Ebitda, so there's room to do more.
Not committing more cash to content also seems shortsighted, since popular shows are essential to luring and keeping subscribers — as seen with "Star Trek." They can be sold internationally, too. At least McCall says the outlay will skew more heavily toward scripted content, which is easier to sell abroad. Having a good library of shows would make this perennially rumored takeover target more attractive to suitors. John Malone's Liberty Global Plc already owns a 9.9 percent stake.
As she steers the ship forward, McCall might be better off ditching the Spock and channeling some of James T. Kirk's reckless spirit. 
This column does not necessarily reflect the opinion of the editorial board or Bloomberg LP and its owners.
Alex Webb is a Bloomberg Opinion columnist covering Europe's technology, media and communications industries. He previously covered Apple and other technology companies for Bloomberg News in San Francisco.