UBS Puts a Smile on the Face of Europe's Banks
(Bloomberg Opinion) -- UBS Group AG has kicked off the European banks' earnings season after a quarter hit by fears of a global trade war, rising market volatility and slower economic growth. For all the jitters, expectations may be set too low.
The Swiss bank didn't do too badly amid the gloom: net income rose 9 percent to 1.28 billion Swiss francs ($1.29 billion), beating analyst estimates. The investment banking arm rode a pick-up in trading activity, with pretax profit up 44 percent, while UBS's wealth managers earned the most in interest income and fees in at least five quarters. The current backdrop of rising interest rates and controlled market volatility has proved to be positive for the bank, even if geopolitical uncertainty dissuades some rich clients from trading and some firms from embarking on initial public offerings.
So even if the quarter wasn't all plain sailing – with some hefty outflows of client assets – it was enough to boost UBS's share price by about 3 percent on Tuesday, the steepest gain in more than a year. CEO Sergio Ermotti is telling investors what they want to hear: the bank is on track to hit its targets and return precious capital in the form of share buybacks and dividends. Even if UBS's premium valuation – it trades at about 10 percent more than its book value – looks lofty next to cheaper turnaround stories like Credit Suisse Group AG, there's still an advantage to be had in delivering consistent profits and returning cash.
Ermotti and his team still have work to do. Revenue is growing faster than expenses, but costs are still eating about 78 percent of income, versus a target of 75 percent. Wealth management is still a people-heavy business, and growing competition has led to aggressive poaching in Asia. Personnel expenses are at their highest in six quarters. Ermotti is eyeing 100 million Swiss francs in cost savings from merging different wealth-management businesses; investors will soon no doubt want to see payoffs from investment in technology and automation, too.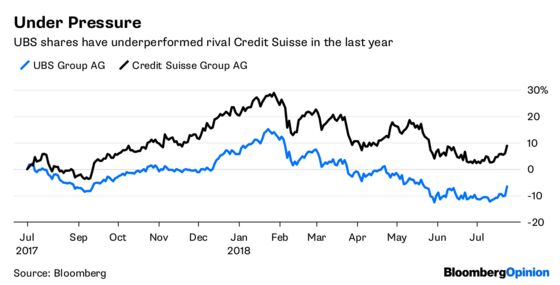 Despite some pressure for a more aggressive restructuring, there's still no obvious reason to row back from UBS's strategic commitment to focus on wealth management while keeping a leash on the investment bank. Yes, the latter division had a bumper quarter, drove most of the out-performance, and brought down its balance-sheet risk from the prior quarter. Yes, delivering double-digit revenue growth in both equities and fixed income is a rare feat for a U.S. bank, never mind a European counterpart. But if the model ain't broke, don't fix it. There are more than enough "exciting" alternatives to UBS with a higher exposure to trading – like Deutsche Bank AG.
There's a lot we still don't know about the longer-term outlook. The traditional business of managing money for the rich is under pressure from cheaper rivals. A market correction may yet be on the way after years of pumped-up asset prices. But these will bedevil all banks. On the strength of this quarter, Ermotti's problems are very much of the first-world kind.
This column does not necessarily reflect the opinion of the editorial board or Bloomberg LP and its owners.
Lionel Laurent is a Bloomberg Opinion columnist covering finance and markets. He previously worked at Reuters and Forbes.