Turkey Won't Fool Investors Twice on Rates
(Bloomberg Opinion) -- If ever there was any doubt that Turkish President Recep Tayyip Erdogan would live up to his electoral promise to take control of monetary policy, there is none now.
About the best thing that can be said for the central bank's surprise decision to leave the key rate unchanged is that at least they didn't cut it — after his election Erdogan said that it would fall. Still, he has put his country in a terrible position. Turkey really is uninvestable if its central bank cannot get a grip on runaway inflation.
Economists had forecast a 100 basis point increase to 18.75 percent. To say the lack of a rate hike was a disappointment is understating it. The lira sold off 4 percent to as weak as 4.94 versus the dollar. Ten-year yields hit a shocking 18 percent.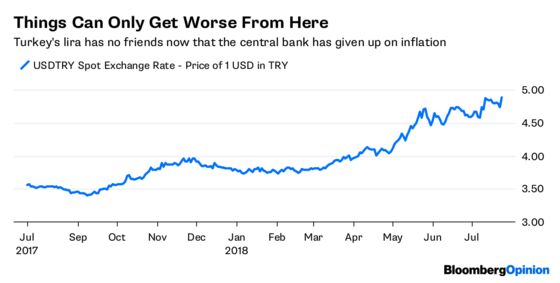 The thumbprints of the new Finance Minister, Berat Albayrak, perhaps better known as Erdogan's son-in-law, look to be all over the Monetary Policy Committee's statement. It is all about the government's pro-growth strategy — so "signs of deceleration in domestic demand" seem to have been the tipping point.
This is another disappointment. Last week, Albayrak sounded as if he would give a green light to the central bank to do what is necessary. It was not to be. Now he has engineered his first crisis, after just two weeks on the job.
The policy statement contradicts itself, and it's almost as if the central bank wanted to get some get-out-of-jail-free cards on the record. There's a dovish line that rates could stay on hold for an extended period, which gets undermined by the rider in the following paragraph that further rate hikes will come if the inflation outlook worsens.
Which it will. Producer price gains of 23.7 percent year on year in June, up from 20.2 percent the prior month, strongly suggest that the June CPI print of 15.4 percent will not be the high.
The penultimate line of the statement struck a slightly odd tone — that new data or information may lead the MPC to revise its stance.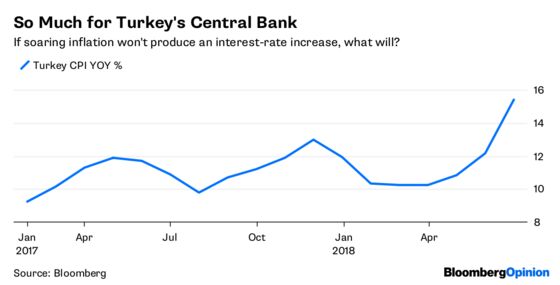 Perhaps a new low for the currency and record high bond yields might allow the central bank to belatedly argue for the needed rate hike the economy badly needs. As is becoming habitual for Turkey, it will be too little, too late. Ultimately rates will have to go a lot higher than they needed to if officials had acted sooner to control inflation. 
Liquidity in Turkish bonds is very thin, with yields jumping 10 basis points from one trade to the next. With little incentive for investors to buy, the logical path is for yields to rise further — as expectations are that interest rates will have to rise eventually.
The outlook for the lira is grim — Viktor Szabo, a fund manager at Aberdeen Standard Investments, said if the central bank didn't raise rates on Tuesday then the currency could weaken a further 25 percent to 6 lira per dollar. It has already dropped more than that this year. Investors don't take kindly to being duped, and what little hope there was that Erdogan might see sense has been consigned to the dustbin.
This column does not necessarily reflect the opinion of the editorial board or Bloomberg LP and its owners.
Marcus Ashworth is a Bloomberg Opinion columnist covering European markets. He spent three decades in the banking industry, most recently as chief markets strategist at Haitong Securities in London.