First the World Cup, Now Cars. France Is on a Roll
(Bloomberg Opinion) -- French carmakers are inferior to the Germans. You can't make decent money in the mass market. With a looming trade war, regulatory uncertainty and technological upheaval, the traditional autos giants are doomed.
For a pretty emphatic riposte to all of those industry assumptions, look no further than the 2.6 billion euros ($3 billion) of free cash flow generated by Peugeot SA in the first six months of this year.
Under CEO Carlos Tavares — who last year added General Motors Co.'s Opel unit to the Peugeot stable — the French manufacturer appears to be firing on all cylinders. Thanks to surging sales of sports utility vehicles and diligent cost-cutting, the company's core Peugeot-Citroen-DS division has achieved an 8.5 percent recurring operating profit margin. That's Mercedes and BMW territory, which is striking when you consider that the latter have far higher sticker prices.
Tavares has certainly had his share of good fortune, and he's been helped by some pretty favorable accounting adjustments. But it's hard not to be impressed by the recent operating performance, as well as a quick turnaround at Opel/Vauxhall — which lost money for years under GM's ownership. Clutching for a superlative to sum up Tuesday's results, Bernstein analyst Max Warburton opted for "Boom!" The shares jumped 10 percent, bringing this year's increase to about one-third.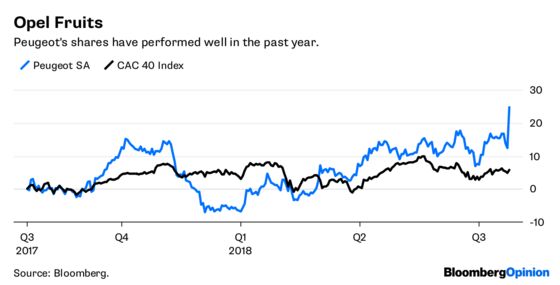 Still, all of the fears around the car industry are not without foundation. And it's wise not to get too swept away by Peugeot-mania and the seemingly miraculous job it's done on Opel. The group profit margin that it bragged about excludes 750 million euros in restructuring charges and other one-offs, largely Opel-related. If you add them back, Opel's 5 percent operating margin all but disappears.
Peugeot also capitalizes about half of its research expenditure, meaning these costs don't hit the profit and loss statement. Under GM's accounting, Opel couldn't do that. 
Similarly, almost half of the group's free cash flow stemmed from a 1.2 billion euro improvement in working capital, again mostly at Opel. Paying your suppliers a bit more slowly might be sound business, but it's not rocket science either and it's hard to keep doing it.
Tavares is blessed too by Peugeot's limited international presence. A trade war hurts globe-trotting carmakers, but three-quarters of Peugeot's first-half revenue was from Europe, and it doesn't sell cars in the U.S. Something that would have been a weakness in pre-Trump times is now an advantage. This hasn't gone unnoticed by shareholders: The stock trades on 8 times estimated earnings — pretty good for this industry. 
For now, though, these are caveats to what is a clear improvement at Peugeot. There's nothing wrong with running your finances in the most optimal way possible. In addition to winning a soccer World Cup, France has shown its carmaking chops are in pretty decent shape too. Chapeau, as they say.
This column does not necessarily reflect the opinion of the editorial board or Bloomberg LP and its owners.
Chris Bryant is a Bloomberg Opinion columnist covering industrial companies. He previously worked for the Financial Times.