Fevertree Can Stay Fizzy if It Cracks America
(Bloomberg Opinion) -- Fevertree Drinks Plc's business of premium mixers is like an Adele album. It's popular with both your middle aged uncle and your millennial niece.
The appeal to traditional spirit drinkers and newcomers to the delights of gin and tonics has helped the company to build a business with a market capitalization of almost 4.5 billion pounds ($5.9 billion).
Fevertree has made a habit of beating market forecasts, and said on Tuesday that the outcome this year would be "comfortably ahead of its expectations." The U.K. is still a star – growth in the six months to June 30 was much better than the 30 percent forecast by analysts at Jefferies. Domestic sales rose 73 percent, defying concerns about a slowdown. That's on top of the exceptional 113 percent expansion in the year earlier.
The trouble is, the outperformance has been matched by an equally fizzy valuation.
The shares, which rose as much as 15 percent on Tuesday, have more than doubled in the past year. They trade on a forward price to earnings ratio of almost 80 times, about 200 percent more than global beverage rivals.
Growth in Britain will have to mature soon, and once that happens, the U.S. will have to pick up the baton in order to justify that valuation.
A strong U.K. performance shouldn't have come as too much of a surprise, given the World Cup, and how the unusually warm weather is driving Brits into beer gardens. But it puts even more pressure on the U.S. business to pick up the slack if next year sees a more normal British summer.
The signs are also good for an expansion across the pond. As of last month, Fevertree gained full control of its marketing initiatives in the U.S., giving it scope to turbocharge its push in America.
It also said Tuesday that it had signed a deal with Southern Glazer's Wine and Spirits, the largest North American wine and spirits distribution company, to be its exclusive partner for sales to bars and clubs in 29 U.S. states.
That should help to drive up demand for Fevertree tonic, and also opens up the possibility of selling more mixers for whisky and rum, such as cola and ginger ale. That's a massive market, and conquering this would ratchet up sales.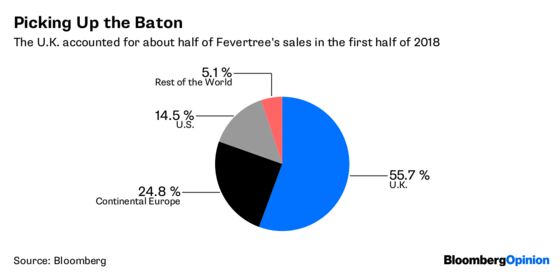 So far, its execution has been as classy as its mixers. But the U.S. market can prove tricky even for companies that speak the same language – witness the struggles of  Tesco Plc and Irish food manufacturer Greencore Group Plc. It's not a given that Fevertree can navigate this market successfully.
Given the stratospheric rating, any stumble would be painful for investors. But it might also make the company a more palatable acquisition target for a big consumer or beverage group. They have been prepared to pay up for faster growth, but Fevertree's current valuation might make a deal difficult to sell to a predator's own shareholders.
So the key to Fevertree's future success is a matter of taking another leaf out of Adele's book, and cracking America.
This column does not necessarily reflect the opinion of the editorial board or Bloomberg LP and its owners.
Andrea Felsted is a Bloomberg Opinion columnist covering the consumer and retail industries. She previously worked at the Financial Times.