Eli Lilly's Good Quarter Masks Deeper Risks
(Bloomberg Opinion) -- Eli Lilly & Co. is changing its look, but that won't shield it from disruption.
The Trump administration is working on a rule that could upend the current drug-price negotiation system by targeting the middlemen in the process — pharmacy benefit managers, or PBMs — which currently demand large and secret rebates from pharmaceutical companies in exchange for favoring their drugs in competitive areas. 
That would seem positive for Lilly, which announced better-than-expected earnings results on Tuesday along with a well-received plan to spin off a stake in its Elanco animal-health business. The company has a large presence in crowded drug classes and pays large rebates. But though pharma has railed against rebates, changes could easily turn sour for the sector, and for Lilly in particular.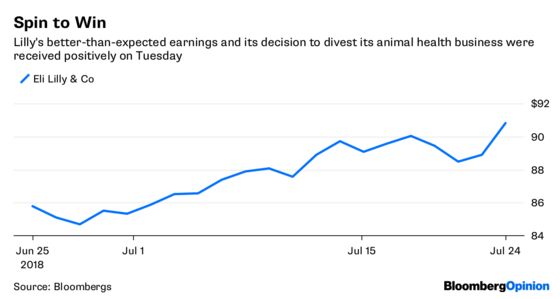 Last year, Lilly's average discount across its human drug portfolio reached 51 percent, driven by the diabetes segment. Merck & Co. reported a 45.1 percent average discount, while Johnson & Johnson's was 42 percent. 
Big changes to the rebate system would have an outsize impact on Lilly. On the positive side, ending rebates would help the company to narrow the gap between the list, or sticker price, and the real price of its drugs. That would reduce costs for consumers and potentially boost demand.
But favorable coverage would still go to drugmakers willing to provide the lowest price. Given that under the new proposal, the focus would theoretically shift toward list prices as opposed to the rebates now being negotiated, it could be harder for a company like Lilly to charge higher prices to smaller and less powerful payers. Without rebate-driven exclusive contracts, sales volume might go down for certain products. Incentives to favor more expensive products would erode. And it's not as if Lilly hasn't benefited from the current system at times — this year, for instance, it managed to secure favorable coverage for its copy of Sanofi's blockbuster insulin Lantus.
The company was asked by at least five analysts about rebate shifts on its earnings call Tuesday morning. CEO David Ricks was supportive of the notion of bringing prices down for consumers, but also said that "clearly there is a lot of room for disruption in a negative way here." The main message was one of uncertainty, and admittedly, there are so few details available that it's tough to make any predictions. 
One executive did acknowledge that the rule might apply beyond federal programs, which would make it more robust and possibly more likely to have a negative impact. 
This uncertain dynamic comes as Lilly faces risks tied to its over-reliance on the diabetes medicine Trulicity. Sales of the drug increased by 81.9 percent in the second quarter compared to the same period last year, and is expected to generate an outsize portion of its growth going forward as older drugs begin to hemorrhage sales. 
Trulicity already faces significant competition from drugs made by Novo Nordisk A/S, which recently proved that its rival Victoza has a cardiovascular benefit. If Trulicity doesn't at least match that with trial data later this year, expectations will have to come down. If the rebate system shifts and the drug looks average, it may be harder for Lilly to seize or even retain market share with big discounts.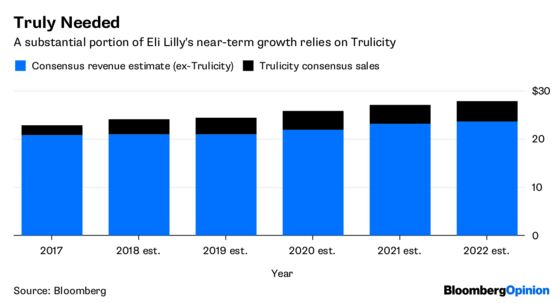 Lilly has many other drugs in crowded classes that also face an uncertain future. Newer launches like inflammation drug Taltz and breast-cancer drug Verzenio may benefit if they can prove that they're better than other options. But it's hard to imagine older drugs like Humalog retaining as much market share without complicated rebate machinations.
The company's acquisition of cancer-focused Armo Biosciences represents a shift in strategy that could insulate the company from pricing and competitive shake-ups. Proceeds from the Elanco separation ought to help it pursue more such deals. Given the potential for huge and positively negative disruptions to big parts of its business, there's no time like the present. 
This column does not necessarily reflect the opinion of the editorial board or Bloomberg LP and its owners.
Max Nisen is a Bloomberg Opinion columnist covering biotech, pharma and health care. He previously wrote about management and corporate strategy for Quartz and Business Insider.