Tesla's Cash-Back Request Sends a Worrisome Message
(Bloomberg Opinion) -- Elon Musk may not like it, but I have a feeling he's going to face a few more boring questions on Aug. 1.
Alongside tedious things like Model 3 production rates and the economics of that tent, a new question has surfaced. Tesla has apparently asked some suppliers to return some of its prior payments in order to help the company in its quest for profitability, The Wall Street Journal reports, citing a company memo. This tweet by CEO Musk late Sunday appears to offer some corroboration: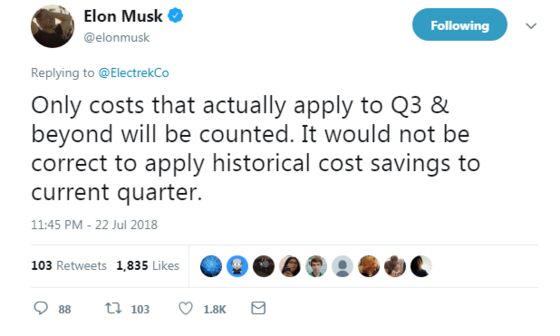 To be clear, I haven't seen the reported memo, and it is far from clear how many suppliers received it, so it's tough to make a definitive observation on its contents. Tesla emailed a statement on Monday afternoon setting the memo in the context of broader negotiations with suppliers. In particular, it said:
"We asked fewer than 10 suppliers for a reduction in total capex project spend for long-term projects that began in 2016 but are still not complete, and any changes with these suppliers would improve our future cash flows, but not impact our ability to achieve profitability in Q3."
Tesla didn't indicate whether any suppliers had agreed or how much was sought in aggregate. But the context in which this story appears means that, when Tesla's second-quarter earnings call rolls around in nine days, getting clarity on this issue should be a priority.
Asking suppliers for cost concessions isn't unusual; it's just business as usual. It's the part where Tesla reportedly asks for cash back that touches upon a sore point: cash burn (see this). Having used $1.4 billion in cash for operations since the start of 2010 — rather than generating it from them — Tesla has relied on a mix of equity issuance, raising debt, customer deposits and negative working capital to fund operations and investment. Working capital management has become especially important over the past year or so: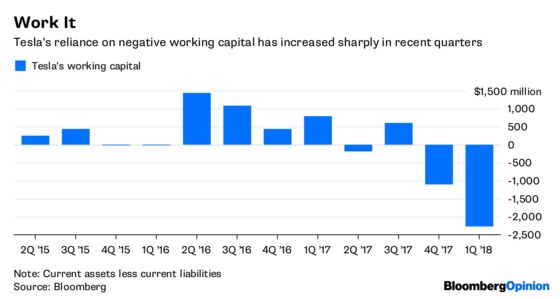 There is nothing inherently wrong with getting suppliers to finance your business. But as Tesla's CFO acknowledged on an earnings call in February, such windfalls don't necessarily last.
As it is, Tesla's cash-conversion cycle — how quickly it turns inventory into cash — is already pretty quick (see this for a detailed explanation) relative to other car companies: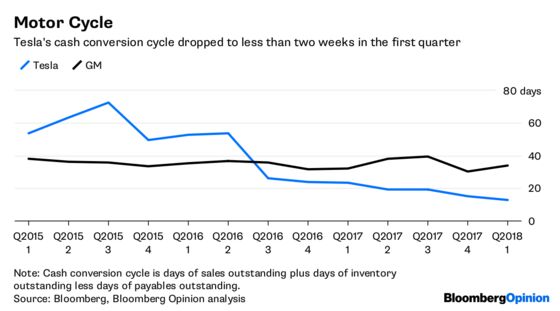 Cash conversion is a function of days of sales and inventory outstanding minus days of payables outstanding. The lower the number, the better.
Most of Tesla's favorable position in the chart above reflects its very low days of sales outstanding, just 15 in the first quarter compared with 76 for General Motors Co. This can largely be explained by Tesla's direct-to-consumer sales model (as opposed to selling via dealers). The flip-side of that is Tesla's days of inventory outstanding are higher, because finished vehicles sit with the company rather than on dealer lots. This figure was 74 days for Tesla in the first quarter, compared with just 33 at GM.
In the context of the reported memo, however, days of payables outstanding is the key figure: How long can you hold off paying suppliers? On that score, Tesla now looks quite ordinary: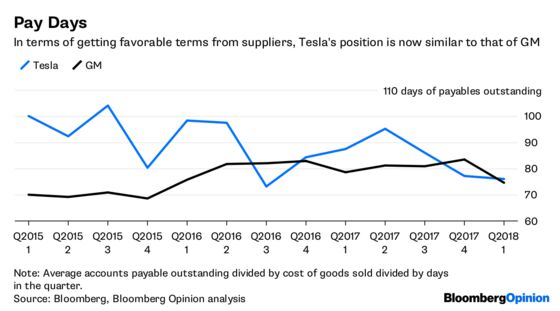 Tesla used to enjoy more slack; less than a year ago, suppliers waited almost three weeks longer to be paid, on average.
So the memo's appeal for assistance is perhaps less surprising. But it isn't reassuring, as Monday morning's slide in the stock — and an uptick in the yield of Tesla's 2025 bonds — demonstrate.
Tesla's liquidity looks challenged on several fronts, and the continued struggle to churn out Model 3s at a sustainable pace in the second quarter doesn't bode well for the cash burn.
Tesla had $2.7 billion of cash on hand at the end of March, the lowest in two years. And a large proportion of that consisted of customer deposits. Like negative working capital, you can read this as a positive factor — free loans from prospective buyers — but you might also worry about the risk of sudden withdrawal:
As I wrote here, Tesla's liquidity ratios look very weak, even when using relatively bullish analyst estimates and assuming a $3 billion equity raise later this year. The numbers undercut Musk's insistence that selling new stock isn't necessary, and the report of the memo compounds this concern.
Beyond signalling a need for cash, it bears some similarity to the company's focus on hitting production of 5,000 Model 3s for a week at the end of June. Like that target, having suppliers return cash for a temporary boost to the balance sheet would be more of a short-term gimmick than a sign of sustainable progress (assuming said suppliers even entertain such a request).
Besides raising more capital, fixing Tesla's liquidity and justifying anything close to its valuation ultimately requires week-in, week-out production of a truly mass-market vehicle at good margins. This is the rather banal reality of successful manufacturing. Cue those dry questions.
This story has been updated to include Tesla's statement.
This column does not necessarily reflect the opinion of the editorial board or Bloomberg LP and its owners.
Liam Denning is a Bloomberg Opinion columnist covering energy, mining and commodities. He previously was editor of the Wall Street Journal's Heard on the Street column and wrote for the Financial Times' Lex column. He was also an investment banker.