Ferrari Loses Some of Its Famous Horsepower
(Bloomberg Opinion) -- Losing Sergio Marchionne is a blow for Fiat Chrysler Automobiles NV. For Ferrari NV, it's a calamity.
While investors had grown used to the idea that Marchionne would retire as Fiat CEO next year, they thought he'd be leading the sportscar maker until 2021 at least. Instead, Louis Camilleri — the former boss of Philip Morris International Inc. — will be handed the Ferrari keys (provided shareholders agree). He's an experienced executive, to be sure, but one who lacks Marchionne's car industry experience and maybe his ability to seduce the capital markets.
Marchionne oversaw the spinoff of Ferrari from Fiat in 2015. There were doubters, including me, but its performance since the IPO has left us looking a little foolish. His careful positioning of Ferrari as a luxury "house," rather than a manufacturer, helped it secure a valuation befitting of an Hermes International.
The stock has almost trebled since the IPO. Last month's record high valued a business that produces just 9,000 cars a year at an astonishing 24 billion euros ($28 billion). That's almost as much as Fiat-Chrysler. Even after dropping on Monday on news of Marchionne's illness, Ferrari shares are worth 37 times its anticipated earnings. For comparison, the price-earnings multiple for BMW AG is 7 times.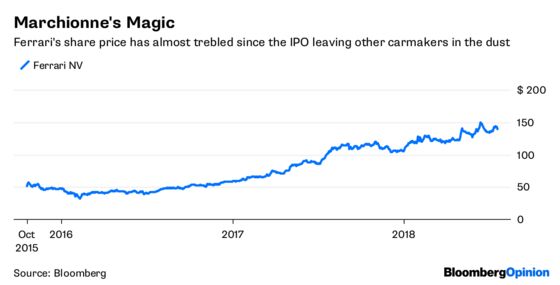 Camilleri is taking over a business that's running smoothly. Thanks to special-edition models, extensive customization and strong pricing, Ferrari generates plenty of cash. Net debt should be eradicated soon, meaning investors can look forward to share buybacks.
But defending that deluxe valuation is no easy ride, especially with Ferrari just entering a critical phase of spending. A Ferrari sports utility vehicle is planned for next year, and its success is key to the company's target of doubling Ebitda to 2 billion euros by 2022 and lifting free cash flow to 1.2 billion euros — about four times last year's total.
Ferrari is investing too in hybrid technology, and possibly an electric car one day. Plus there's the complicated and expensive relationship with the Formula 1 motor racing championship to deal with, as well as the launch of a long-mooted range of branded luxury goods. Marchionne didn't make much progress on that last front.
And even though he saw Ferrari as peerless, Aston Martin, Lamborghini and McLaren are all desperate to match its recent success. Donald Trump's trade war might not dent demand for high-end supercars, but it may yet depress valuations for the luxury sector.
None of this should be beyond Camilleri to manage, but the Ferrari story as told by Marchionne wasn't just about its operational or even engineering excellence. The prancing horse has achieved such a giddy valuation essentially because one man willed it so. Without him, Ferrari looks a little more ordinary today.
This column does not necessarily reflect the opinion of the editorial board or Bloomberg LP and its owners.
Chris Bryant is a Bloomberg Opinion columnist covering industrial companies. He previously worked for the Financial Times.