Peak Robot? Japan Says That's Far From Automatic
After what looked like an incipient downturn, orders for Japanese machine tools — a keenly watched dataset — rose 11 percent in June from a year earlier, figures showed last week. Demand from home and overseas totaled close to 160 billion yen ($1.4 billion), climbing back above the 150 billion yen line in the sand at which investors and analysts have started to call a peak in the cycle.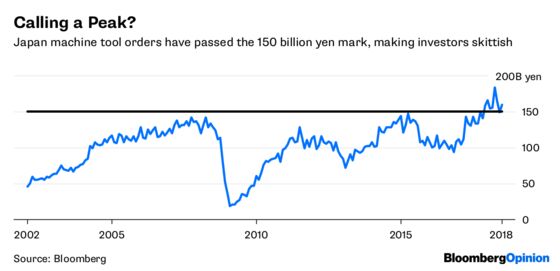 Investors have been dumping shares of Japan's industrial automation leaders, fearing a sustained slump. The reality is that a more nuanced picture is emerging, as fiscal first-quarter earnings may show starting this week: Demand for smartphones, robots, construction machinery and farm equipment isn't in sync, causing customers' capital-expenditure cycles to diverge.
Key to the current pall is an imminent retreat in smartphone demand, a key driver of sales for machinery makers. Shares of Fanuc Corp., the biggest supplier to the companies that make and assemble handsets, have dropped almost 40 percent from their January peak. Japan's orders from the precision equipment industry in China, the category that includes smartphone makers, plummeted by more than 60 percent in May. 
Suppliers to Apple Inc. buy Fanuc's machines to produce iPhone casings. So when the Japanese company provided depressing guidance last quarter, the stock tumbled along with those of peers. Fanuc reports Wednesday.
Fear not, though: Automakers are compensating for the handset crunch. Japan's overall vehicle-related orders were up more than 30 percent in June. Demand from North America was close to the highest on record — especially from aeronautics and other machinery sectors. And those numbers are coming off a high base. For the likes of Kubota Corp., an uptick in all sizes of tractors and farm machinery in North America along with subsidies to farmers in China bodes well.
Investors tend to give credit to (or, in times like these, penalize) companies where they can assess the state of orders through macro data such as those on infrastructure machinery. In such periods of gloom, factory automation and robotics-related companies — where orders are less easy to track — also typically take a beating. Komatsu Ltd. and Hitachi Construction Machinery Ltd., which are reliant on Chinese demand, are trading at valuation discounts of 30 percent and 55 percent to their five-year average forward multiples. Fanuc, meanwhile, is only 13 percent below its long-term average at 24 times forward earnings.  
Are such deep discounts warranted? Take Komatsu. Data from the truck-maker's remote monitoring system in China show that operating hours per construction machine were down just over 2 percent in June. However, the total number of machines was up by almost 10 percent and total hours climbed by around 6 percent from a year earlier. Meanwhile, China's construction starts jumped 11 percent in May, signaling more work is underway.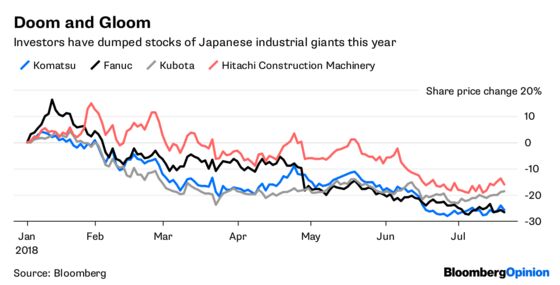 To be sure, there's always the risk of one-time hits such as Tesla Inc. asking for refunds or price reductions from suppliers, as the Wall Street Journal reported this week. Fanuc counts the electric-car maker as a customer.
Investors were caught off guard in the last round of results: Earnings per share for most Japanese machinery companies were a whisker worse than consensus expectations, a rude shock after years of positive surprises. The gathering pessimism since then at least means a comparable disappointment is unlikely.
This column does not necessarily reflect the opinion of the editorial board or Bloomberg LP and its owners.
Anjani Trivedi is a Bloomberg Opinion columnist covering industrial companies in Asia. She previously worked for the Wall Street Journal.