Trump Thinks He's in Charge. He's Mistaken: Weekend Edition
Bloomberg
Opinion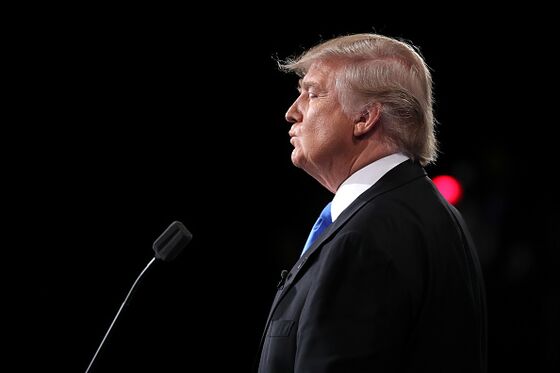 (Bloomberg Opinion) -- "There's a lot — a lot — going on right now, much of it extremely serious and seemingly dangerous. So I suppose it's not right that I'm hung up on this bit from the top of President Donald Trump's interview Wednesday with CBS News's Jeff Glor, but nevertheless I am:
GLOR:  But you haven't condemned Putin, specifically. Do you hold him personally responsible?

TRUMP: Well I would, because he's in charge of the country. Just like I consider myself to be responsible for things that happen in this country. So certainly as the leader of a country you would have to hold him responsible, yes.
"Putting aside Russia and Vladimir Putin … no, Donald Trump, you are not in charge of the United States of America. You are not, in fact, 'responsible for things that happen in this country.'
"Trump is president of the U.S. It's a powerful job indeed, with serious responsibilities. But the president isn't in charge of the nation. He's not even in charge of the federal government; that's a responsibility he shares with Congress and the courts. Indeed, while there's no question about the president having the most influence of any single official, collectively Congress has as much or more. It's no coincidence that Article I over the Constitution is for Congress, while the president must make do with Article II.
"The Constitution does say that 'The executive Power shall be vested' in the president, but the structure of the document, not to mention over 200 years of practice, reveals that just as the president has a share in legislating, both Congress and the courts have a share in running the executive-branch departments and agencies. Perhaps all of that practice has also served to make presidents far more important than the Article I/Article II contrast implies. But Trump is an excellent example of how that influence can dissipate rapidly when someone occupies the office who doesn't know how to use it. After all, we've been watching an open and, for the moment at least (as I write this; who knows what will be the case when you read it), successful effort by his staff and others to force him to clearly and without qualification say that Putin interfered in the 2016 election, something that for whatever reasons Trump obviously doesn't believe and didn't want to say."
Three of our top ten stories were about China and how it's managing the trade war and its economy:
This is the Weekend Edition of Bloomberg Opinion Today, a roundup of the ten most popular stories Bloomberg Opinion published this week, based on web readership, with some other stuff thrown in. New subscribers to the newsletter can sign up here.
This column does not necessarily reflect the opinion of the editorial board or Bloomberg LP and its owners.
Mark Gongloff is an editor with Bloomberg Opinion. He previously was a managing editor of Fortune.com, ran the Huffington Post's business and technology coverage, and was a columnist, reporter and editor for the Wall Street Journal.