A $1 Billion TV Deal Best Watched from Behind the Sofa
On Friday, the Swedish company agreed to pay 9.2 billion kronor ($1 billion) for Bonnier AB's television operations. This push into content looks very similar to AT&T Inc.'s purchase of Time Warner Inc., as my Bloomberg News colleagues point out here.
But the financial pressures behind the two deals aren't quite the same. Over the past three years, U.S. incumbents like AT&T have seen the average revenue they get from each user decline amid growing competition from low-cost rivals like T-Mobile. In theory, bundling Time Warner's content and subscription offerings such as HBO with a cell phone contract offers a way to stanch that decline.
But Europe's telecoms industry has long been more fragmented and competitive than the U.S., and average revenue per user is already significantly lower. Telia made the equivalent of $28.50 from each subscriber in the first three months of this year, little more than half the $53 AT&T made. The decline in Telia's ARPU has been proportionately smaller over time.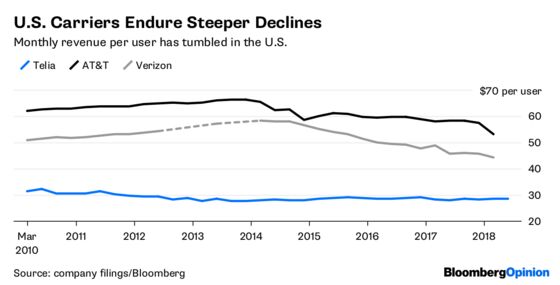 Even so, the Swedish firm is paying a similarly rich price for the content it wants. Friday's deal puts the enterprise value of the acquired business at 15 times earnings before interest and taxes, close to the 16 times Ebit at which the AT&T takeover valued Time Warner.
AT&T could justify paying that amount because it also hopes to monetize Time Warner's content in two ways: by offering its subscribers premium content such as HBO, and by leveraging user data to deliver better targeted ads, a move supported by its planned acquisition of AppNexus Inc.
But the channels Telia is buying are mostly free-to-access and ad-supported, so it's only able to use one of those approaches: programmatic advertising, which uses consumer data to target ads effectively. CEO Johan Dennelind said as much on Friday's conference call with analysts, admitting that his customers wouldn't get exclusive content.
Those constraints are replicated across Europe, where much of the best content is available on free-to-air channels or by public broadcasters like the British Broadcasting Corp. The advantage of a mobile carrier owning something like Britain's ITV Plc therefore looks much more limited.
Europe's telephone companies will no doubt observe Telia's gamble closely. If it doesn't pay off quickly, though, expect them to stay watching from behind the sofa.
This column does not necessarily reflect the opinion of the editorial board or Bloomberg LP and its owners.
Alex Webb is a Bloomberg Opinion columnist covering Europe's technology, media and communications industries. He previously covered Apple and other technology companies for Bloomberg News in San Francisco.