Roche Takes Drug-Price Posturing to New Heights
(Bloomberg Opinion) -- Drug companies are falling over themselves with plans to halt or defer price increases to get on Donald Trump's good side. They seem to believe his approval comes cheap. 
Pfizer Inc. started things off earlier this month by agreeing to roll back mid-year price hikes and delay them — for a few months. Similar efforts announced this week by Novartis AG and Merck & Co. arguably won't be any more consequential. But Roche Holding AG takes the cake by promising to not raise prices for the rest of 2018, shortly after it hiked prices for the second time this year on its biggest drugs.
In a statement Friday, the Swiss pharmaceutical giant said it told the Health and Human Services Department on July 11 that it wouldn't enact any more price hikes in 2018. The full statement is appended below. The thing about it is, Roche had just passed along price hikes on nine drugs, including the biggest medicines in its portfolio, at the beginning of July. 
Based on its recent practice, the next time Roche would likely raise prices on the drugs — Rituxan, Herceptin, Avastin, Perjeta, and Actemra, accounting for more than 60 percent of its drug sales — would be the beginning of next year, according to data from Bloomberg Intelligence and First Databank. In other words, Roche promised not to take new price hikes until … the next time it would likely raise prices anyway. Truly heroic.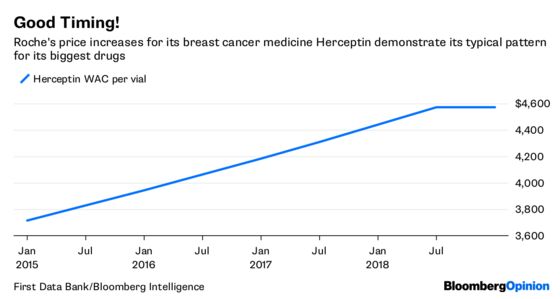 This isn't to say that Roche should be a scapegoat. It is relatively modest in its increases, and has priced some newer drugs below older alternatives. And while its policy likely won't have any major impact on the firm's sales, it could conceivably delay hikes on a few smaller drugs.
That said, Friday's announcement is a particularly glaring example of how little these pricing shifts mean.
Pfizer's delay will likely reduce 2018 sales by $200 million at most, according to Bloomberg Intelligence. The cost will probably be much less than that, and the firm is expected to generate $54 billion in sales overall this year. Novartis's pledge means even less: The company tends to enact lower price hikes in general, and particularly small ones mid-year. And Merck's 60 percent price cut for Hepatitis C drug Zepatier is flashy, but it's an already heavily discounted and declining drug, while the firm's promise to hold price hikes below inflation likely gives it a great deal of profitable wiggle room.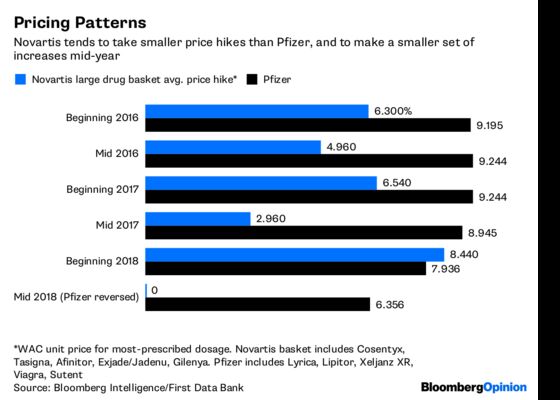 President Trump and HHS secretary Alex Azar may be declaring early victories for their drug-pricing plan. But little of consequence has happened yet. Pharma's pricing promises don't deserve an immediate pat on the back, but a magnifying glass. 
This column does not necessarily reflect the opinion of the editorial board or Bloomberg LP and its owners.
Max Nisen is a Bloomberg Opinion columnist covering biotech, pharma and health care. He previously wrote about management and corporate strategy for Quartz and Business Insider.