Can Trump's Tirades Dent Hermes's Hotness?
(Bloomberg Opinion) -- You're going to have to keep saving for that Birkin bag.
Demand for the iconic accessory, together with Hermes shoes and perfumes, rose strongly in the second quarter, the French luxury goods group said.
Hermes International reported better-than-expected second-quarter sales growth and said the first-half operating margin would be close to the record level of the first six months of 2017.
As with other sellers of high-end goods, China was the driver. Consumers there have rediscovered their love of everything bling, from Gucci T-shirts to Breguet watches.
While that's been a boon over the past two years, it's a worry now. Chinese consumers accounted for 32 percent of the global luxury goods market in 2017, according to Bain & Co.
If escalating trade tensions between the U.S. and China take their toll on the latter's consumer confidence or economic growth, that could make its shoppers less willing to splash out. The nation's stock market has already suffered. The development of real estate values, which have a big impact on sentiment, will now be key.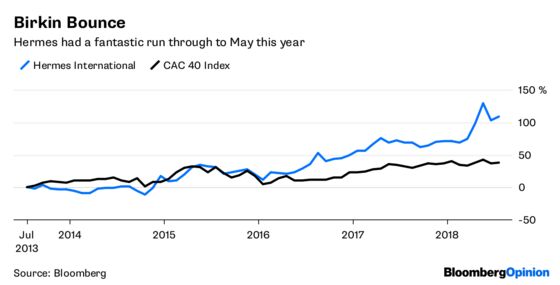 Hermes said on Friday that it was not seeing any softening of demand in China, with sales in the country still growing by more than 10 percent, Bloomberg News reported. It also said it was closely monitoring macro indicators.
The company has already demonstrated it can be vulnerable to weakness there — it ditched its medium-term target of 8 percent annual sales growth two years ago, when Chinese consumers pulled back from buying luxury goods amid the country's anti-extravagance drive and gyrating stock markets.
However, it does tend to do better than peers in tough times because of its strategy of frustrating demand for its most desirable handbags. That means long waiting lists, and consumers keen to tap into the brand by buying scarves or watches instead, should continue.
The shares had a fantastic run through to the end of May, when they reached an all-time high, helped by a strong first quarter and inclusion into the CAC 40 index. But they have since fallen by 11.5 percent.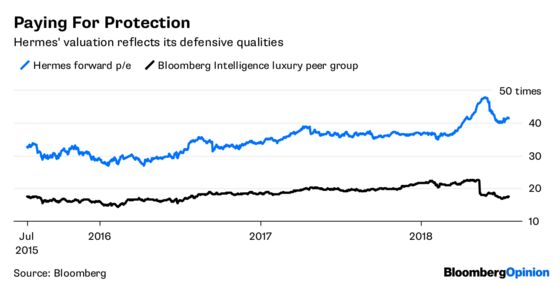 Even so, they trade on a forward price earnings ratio of 41 times, more than twice the multiple of the Bloomberg Intelligence luxury peer group. That's also well above the company's 32.6 times average over the past five years. For that premium to be sustained, when the slowdown finally hits, Hermes will face some pressure to demonstrate its defensive qualities. 
This column does not necessarily reflect the opinion of the editorial board or Bloomberg LP and its owners.
Andrea Felsted is a Bloomberg Opinion columnist covering the consumer and retail industries. She previously worked at the Financial Times.