Unilever Is Still Vulnerable to a Kraft-Like Bid
(Bloomberg Opinion) -- When a company vehemently rejects an unsolicited bid approach, it needs to convince investors that it made the right decision.
Unilever, which saw off a $143 billion approach from Kraft Heinz Co. 18 months ago, is doing just the opposite.
On Thursday, the company reported second-quarter organic sales growth below analysts' expectations. There was some better news on the underlying operating margin, which increased by 0.8 percentage points to 18.6 percent. Still, the top line is disappointing.
A strike by truck drivers in Brazil cut first-half organic sales growth by 0.6 percentage points. That's out of Unilever's hands, and will likely affect others too.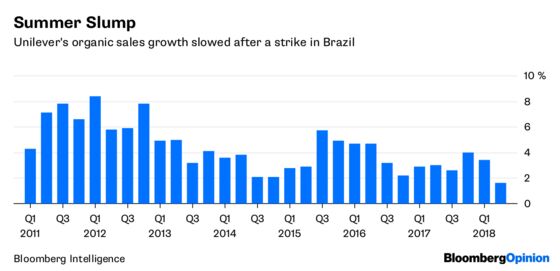 But dealing with such "speed bumps," as Chief Executive Officer Paul Polman describes them, should be part of the day job for management. Unilever has begun the process of identifying his successor, but he is unlikely to want to step down until the company has provided unequivocal proof that it deserves an independent future.
It doesn't help that while it sold more pots of moisturizer and tubs of ice cream in the first half, pricing was stubbornly weak. Again, that's market-wide, but Unilever's pipeline of product innovation should have helped it to lift prices ahead of the market.
The company still expects to achieve its target for organic sales growth of 3 to 5 percent in the full year. It said it would recover half the lost sales in Brazil over the next six months, while prices should increase. But that would be a big improvement, and leaves scope for disappointment. It would only need the company to hit another speed bump, such as disruption from trade tensions, to undershoot again.
The shares are still above the level they were before Kraft Heinz appeared on the scene.
Since the approach from the U.S. giant, Unilever has offloaded its spreads business, and announced two multi-billion-pound share buyback programs. But while it edged closer to its targets for 6 billion euros ($7 billion) of cost savings and an underlying operating margin of 20 percent by 2020, it still has some way to go.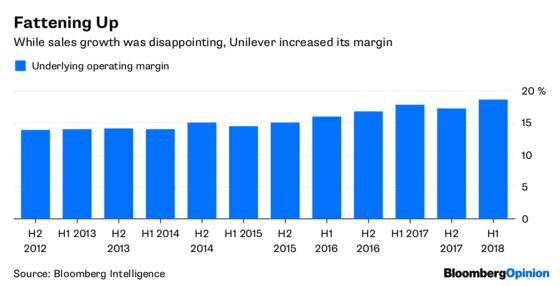 The shares trade on a forward price earnings ratio of about 20 times, almost neck and neck with those of Nestle SA. True, Unilever's Swiss rival has its own issues to contend with, with activist investor Dan Loeb pushing for the group to accelerate the pace of change. But it looks like Unilever shareholders are clearly far from rewarding it for the steps that it has taken.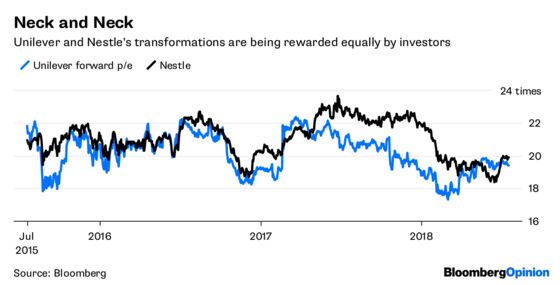 Now add in the fact that it has irritated some investors with its plan to shift its headquarters to the Netherlands, jeopardizing its inclusion in the U.K.'s FTSE 100 index. Unilever's still vulnerable to another bid, or a run by an activist. After everything that it has done, and said it will do, the shares are still trailing what it would need to have an adequate defense.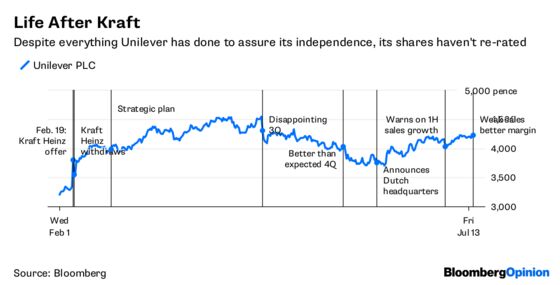 True, Kraft Heinz might not be in a position to bid again, as its shares have slumped since February 2017. But activist investors continue to focus on the consumer sector. If Unilever's strategic plan fails to deliver, then it could join Nestle and Danone SA in becoming a target for a hedge fund.
Andrea Felsted is a Bloomberg Opinion columnist covering the consumer and retail industries. She previously worked at the Financial Times.