Three Strikes Should Rule Out U.K. Rate Increase
(Bloomberg Opinion) -- The interest-rate futures market is convinced the Bank of England will raise borrowing costs next month. But three consecutive sets of disappointing economic statistics this week should restrain the hawks on the Monetary Policy Committee from turning the present political and economic drama into a crisis.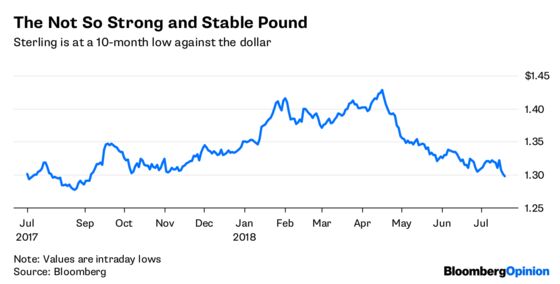 The pound lurched lower on Thursday, dropping below $1.30, after disappointing retail sales figures. The combination of a heat wave and the start of the World Cup soccer tournament failed to generate the expected surge in demand: The median forecast of economists surveyed by Bloomberg News was for a gain of 0.2 percent. Instead, they got a drop of 0.5 percent.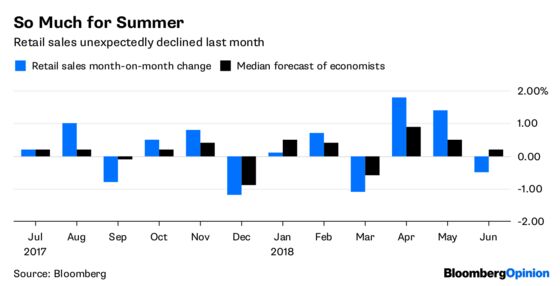 The retail sales data followed Wednesday's June inflation report, which also undershot expectations.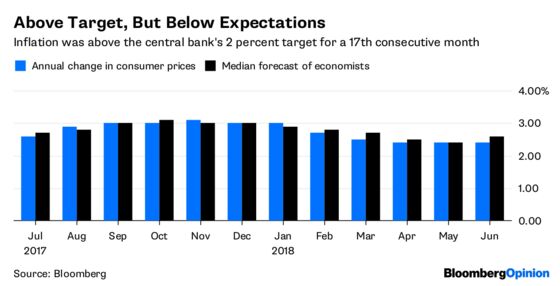 Price growth has been slower than expected in four of the past five months, and for half of the past year. And while inflation is currently stuck above the Bank of England's 2 percent target, in the three years between 2014 and 2016 it averaged just 0.7 percent.
But it's the contrast between the increase in prices in the shops and the moribund pace of wage growth that should give the central bank the biggest reason to pause before tightening monetary conditions.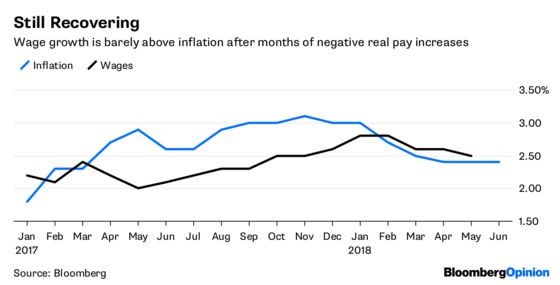 As the chart above shows, wage growth is slowing, with figures for May released on Tuesday showing weekly earnings including bonuses climbing by 2.5 percent — just 0.1 percent above that month's inflation rate.
And yet, the futures market still says there's about an 80 percent chance of a rate increase when the Bank of England announces its policy decision on Aug. 2.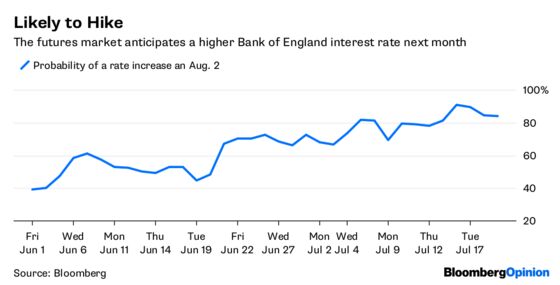 With the benchmark rate at 0.5 percent, the central bank doesn't have much scope to act if the U.K. drops out of the European Union without a deal and the economy dives into a tailspin. By raising rates now, while growth is still positive and prices are rising, policy makers would give themselves more room to loosen monetary conditions if needed in future.
It seems the Bank of England has a case of "fear of missing out," and I have some sympathy for that. But there's too much of a risk that Britons, still feeling poorer after those long months of inflation eroding their incomes, will react badly to higher borrowing costs. Moreover, the global outlook for growth grows more fragile by the day.
The Bank of England would do better to wait and see what Brexit actually delivers — and for any long-delayed increase in wage pressures to actually arrive — than risk turning the current slowdown into a full-blown recession by raising rates in two weeks' time.
Mark Gilbert is a Bloomberg Opinion columnist covering asset management. He previously was the London bureau chief for Bloomberg News. He is also the author of "Complicit: How Greed and Collusion Made the Credit Crisis Unstoppable."