TSMC Should Prepare to Become Vestager's Next Target
(Bloomberg Opinion) -- Back in November, Taiwan Semiconductor Manufacturing Co. told investors it's under preliminary investigation by the European Commission.
Buried on page 43 of its 66-page quarterly 6-K regulatory filing, TSMC said the commission contacted it on Sept. 28 to ask for information and documents "concerning alleged anti-competitive practices of TSMC in relation to semiconductor sales."
Not much was made of it at the time. TSMC's stock had a tough December but rebounded over the next three months as investors started to get excited about the possibility that Bitcoin mining and high-performance computing could be a boon for the semiconductor giant.
If Wednesday's ruling by the European Commission against Alphabet Inc. teaches executives and investors anything, it's not to underestimate Margrethe Vestager, the EU's antitrust chief. I'd encourage you to read separate analyses by my Bloomberg Opinion colleagues Alex Webb and Shira Ovide to understand more.
Vestager went after Alphabet's Google for the way it imposed restrictions on smartphone makers that used its Android operating system. The obvious minimum, Vestager told Bloomberg Television, is that contractual obligations disappear.
My colleagues concluded that it could have been worse for Google, that Android customers are unlikely to switch anyway, and that the commission is fighting a battle in the smartphone arena that's already been won.
TSMC should take note. The once-great mobile phone names like Ericsson, Nokia and Siemens are gone, yet European regulators still chose to target that sector. Today, there are only two tech industries in Europe of any relevance — networking and semiconductors.
When news of the scrutiny first came to light, MLex reported that TSMC was being examined for allegedly abusing its market power to illegally exclude competitors from the semiconductor market, which included abusive contractual terms for the supply of chips. The U.S. Fair Trade Commission was looking into similar allegations, MLex wrote.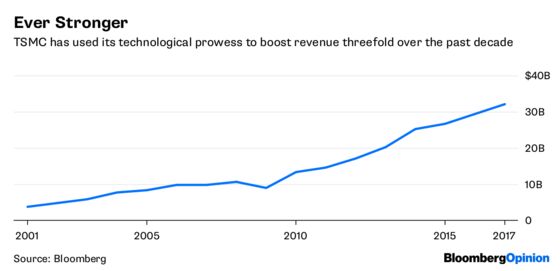 It's impossible to deny TSMC's dominance. It controls more than half of the contract chip market — where it manufactures semiconductors on behalf of clients like Apple Inc. and Qualcomm Inc. Two decades ago, it had reasonable competition from the likes of United Microelectronics Corp. and Chartered Semiconductor Manufacturing Ltd. While Samsung Electronics Co. is now a solid rival on the technology front, the South Korean firm has barely put a dent in TSMC's business.
In an initial response to the probe last year, TSMC said that it follows the law.
While communication between the commission and TSMC has been quiet over the past few months, it would take some reading of the tea leaves to know whether that's a good or bad sign.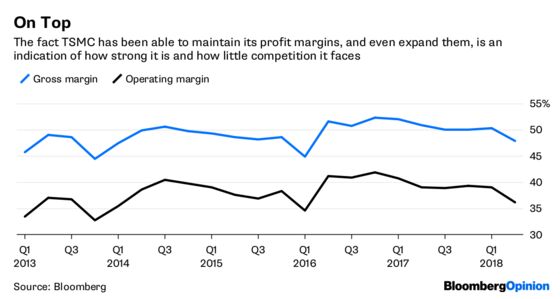 Protestations of innocence, even if true, aren't very valuable. In a blog post explaining why Android's business model is good for the smartphone market, Google CEO Sundar Pichai said Android creates more choice, not less. No doubt that's the argument he made to the European Commission's antitrust team, and it fell on deaf ears.
Only Margrethe Vestager knows what Margrethe Vestager is thinking. But you've got to believe that if she's willing to go in to bat for a mobile phone sector that's already irrelevant, she's just as likely to go after a player in the semiconductor industry.
Tim Culpan is a Bloomberg Opinion columnist covering technology. He previously covered technology for Bloomberg News.