Trump's Drug-Price Push Butts Into Two Megadeals
(Bloomberg Opinion) -- Donald Trump's drug-price push is steering right into health megadeals.
The Trump administration's budget office was sent a proposal by the Health and Human Services Department late Wednesday that seems to target pharmacy benefit managers — the middlemen in the pricing process — as part of efforts to change the way drugs are paid for. In doing so, the measure stands to alter the math of two huge pending tie-ups in the industry: the $67.5 billion acquisition of insurer Aetna Inc. by PBM giant CVS Health Inc., and the $54 billion takeover of PBM Express Scripts Holding Co. by insurer Cigna Corp. 
Right now, drugmakers pay PBMs — which negotiate drug prices on behalf of employers and insurers — secret rebates in order to insure coverage in crowded areas. PBMs profit from these rebates, and drugmakers blame incessant price increases on the need to boost payments and keep these go-betweens happy. 
While there are few details on the scope or content of the HHS proposal, its long-winded but telling name — the Removal Of Safe Harbor Protection for Rebates to Plans or PBMs Involving Prescription Pharmaceuticals and Creation of New Safe Harbor Protection — suggests that it would be aimed at moving away from rebates and toward a system that would likely be less profitable for PBMs. Previous administration rhetoric also suggests that PBMs are in Trump's sights.
It's unclear what the administration can actually do. But if the proposal were to gain traction, it's possible that the drug-pricing status quo might shift more dramatically than CVS or Cigna likely expected when pursuing their deals. Investors certainly seem spooked: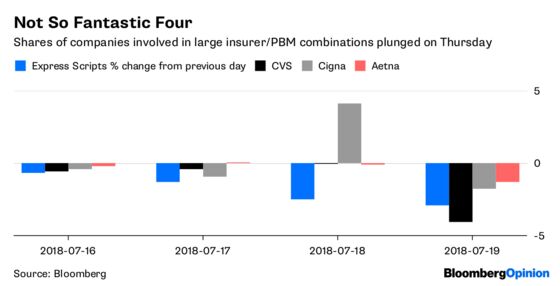 The threat of squeezed PBM profits somewhat justifies CVS's expensive and defensive Aetna acquisition. If the standalone PBM business is going to make less money, a captive audience of Aetna enrollees and an insurance business where cost control is a principal goal will be key additions. That doesn't mean that the deal doesn't feel more risky, at least from a financial perspective. 
More than 60 percent of CVS's revenue comes from its PBM. Substantial erosion of that business would make it tougher to pay down the substantial debt load it is piling up, and to make the investments in transforming its stores and clinics that may be required to make the Aetna deal a success.
It's a little different for Express Scripts. As the biggest stand-alone PBM and an especially profitable one, it is particularly exposed to this potential shift, and shareholders should be glad the company's takeover by Cigna was already set before this happened. The deal has a significant stock component, but $48.75 a share in cash and shares in a combined company that is at least somewhat diversified is a better option than going it alone in this environment. 
Some of the appeal of Cigna acquiring Express Scripts likely comes comes from the potential cost and scale benefits of combining the two businesses. But it's certainly not a good thing that that a business acquired for $54 billion may become structurally less profitable. Unlike CVS, it has no retail pharmacy to soften the blow or serve as the basis for an intriguing new business model. 
Of course, this is still just a thundercloud. The pharmaceutical supply chain won't take this lying down. Congressional action may be required, and that's tough to rely on. And the rule may only target Medicare, which would make it less terrifying. There's also the PR liability of giving the pharma industry the first item on its own drug-pricing wish list. 
Moving away from the rebate system would make it easier for drugmakers to lower list prices without cutting into their bottom line. Pharma, as you might imagine, quite likes this idea. It could also get credit for lower out-of-pocket costs for some patients without hardship. Still, while out-of-pocket costs might decline and pricing would become more transparent, it's conceivable that the net price and overall cost of some drugs could actually increase because PBMs would likely be hamstrung in their ability to effectively negotiate.
CVS and Cigna knew they were taking a risk by doing these deals at a time of great uncertainty for the PBM industry. But the possible wholesale change of the sector's business model by federal fiat amps things up a bit. 
This column does not necessarily reflect the opinion of the editorial board or Bloomberg LP and its owners.
Max Nisen is a Bloomberg Opinion columnist covering biotech, pharma and health care. He previously wrote about management and corporate strategy for Quartz and Business Insider.