Disney Prevails in the Fox Hunt. Now What?
(Bloomberg Opinion) -- Disney always gets its happily ever after.
Comcast Corp. backed down from its pursuit of Rupert Murdoch's 21st Century Fox Inc. on Thursday morning, allowing Walt Disney Co. to proceed with its own $85.1 billion acquisition of the assets, for which Disney has already obtained regulatory clearance (figure includes assumed debt). Of course, it's thanks to Comcast's late-stage competing bid that Disney was driven to pay nearly $20 billion more than it originally intended to, so Murdoch and his sons are the true winners here.  
"I'd like to congratulate Bob Iger and the team at Disney," read part of the statement from Comcast Chairman and CEO Brian Roberts conceding the deal. I imagine him saying it with a smirk and a wink. But all's fair in M&A.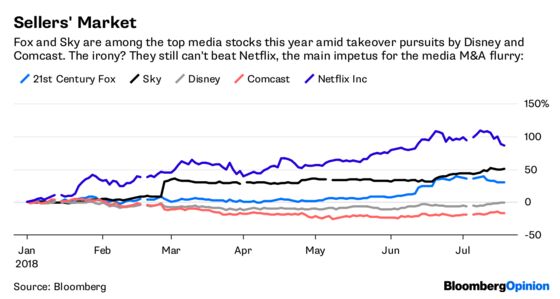 For those who have lost track, the merger will hand Disney control of Fox's TV and film production studios — behind hits such as "Avatar" and the "Deadpool" movies — as well as the National Geographic and FX networks and international assets such as Star India. It will also raise Disney's interest in Hulu to 60 percent. Disney, as the parent of ESPN, will have at least 90 days from the time the transaction closes to sell Fox's regional sports networks, a condition imposed by the Justice Department's antitrust division. 
Still, there are some outstanding matters. For one, Comcast said it's dropping the Fox deal to focus on another one: Sky Plc. Disney wants that one, too. Comcast also happens to own 30 percent of Hulu. 
Here's how I think this could shake out. While Disney's Iger has called Sky a "crown jewel," at these prices he may be willing to let Comcast have it. Remember, Fox holds about 39 percent of the British pay-TV company, a stake which Disney would inherit. Disney's side could back down from buying the rest and give Comcast the green light instead. Comcast could also then buy Disney's Sky stake. That may be an attractive proposition to generate some cash for Disney and pay down debt incurred from buying Fox.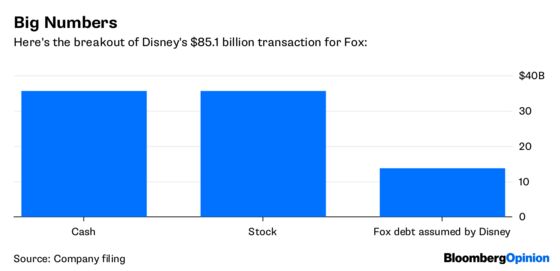 As for Hulu, it's clear that the business is at a disadvantage because of its complex ownership structure. Disney, as part of its push into streaming, may want to consolidate that, which would require Comcast relinquishing its stake. AT&T Inc. now also has a small piece of Hulu by way of its recently completed acquisition of Time Warner.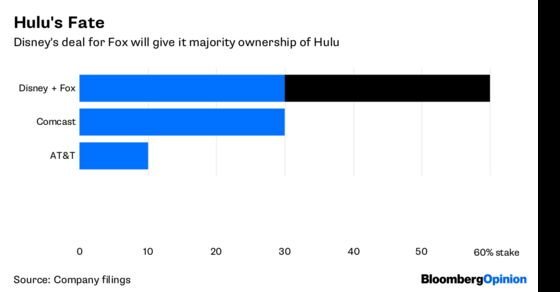 Despite the twists and turns along the way, the Fox situation is playing out largely how we expected. The bigger questions are what happens after Disney owns Fox. I'm concerned that the increasingly messy market for TV and movie streaming services isn't doing anyone much good — not the companies behind the offerings and not even consumers.
I explain in more detail here, but will sum it up like this: For the media giants, skinny bundles deliver skinny margins, and it's incredibly easy for subscribers to cancel between seasons for their favorite series. For consumers, this deluge of niche streaming and on-demand offerings that are specific to certain networks means that you may need to subscribe to multiple services to get everything you want. That could turn out to be just as expensive as a traditional cable bundle.
Consumers also still need to pay for a strong internet connection, and already prices have gone up for Dish Network Corp.'s Sling TV and AT&T Inc.'s DirecTV Now. Plus, it's just all so confusing. Netflix Inc. stands out as a simpler option and still relatively good value, even if it doesn't provide every single channel and movie you may want.
I'd like to hear Disney, Comcast and the others talk more about this. Once the bankers and lawyers have packed up their briefcases and run off with their immense fees, it's time to get back to thinking about the consumer and how to lure them away from an $11-a-month app that gives viewers just enough in a tidy package. 
This column does not necessarily reflect the opinion of the editorial board or Bloomberg LP and its owners.
Tara Lachapelle is a Bloomberg Opinion columnist covering deals, Berkshire Hathaway Inc., media and telecommunications. She previously wrote an M&A column for Bloomberg News.