Continental Jumps Onto a Robot-Driven Bandwagon
(Bloomberg Opinion) -- At the height of the cryptocurrency craze, Long Island Iced Tea Corp. re-branded itself as Long Blockchain Corp. Its share price quadrupled, albeit not for long.
On Wednesday, a German car parts maker adopted a similar "fake it till you make it" approach to value creation. Continental AG ditched the rather drab "Chassis & Safety" as the name for one of its key divisions and opted for "Autonomous Driving Technologies" instead. The sexy re-branding was part of a restructuring of Conti that also includes plans for an IPO next year of its powertrain unit, which makes engine and transmission components.
Plenty of companies are guilty of using buzzwords such as "AI" or "big data" for marketing. And Conti is at least a leader in automated driving systems. The SoftBank Vision Fund's big investment in General Motors Co.'s autonomous unit suggests that emphasizing your robo-car credentials doesn't hurt.
Still, the name change is pushing it. The Conti autonomous driving unit makes hydraulic brakes and suspension systems too. Oh, and you can't buy a fully autonomous car yet. Chris McNally, an analyst at Evercore ISI, summed it up well:
"I played basketball in high school, but not sure my salary will go up if I show up to work tomorrow and start calling myself LeBron"
Investors aren't buying it either. The shares fell about 3 percent in early trading Thursday. They've declined by 15 percent since Bloomberg first reported news of the restructuring in January.
Of course, that retreat is partly caused by fears about a trade war that drags in carmakers. A recent profit warning didn't help. Nevertheless, it's hardly an endorsement of one of the "largest organizational changes in the company's history." There is, though, something Conti could do to unlock more value from its disparate portfolio, and it's far more humdrum than robo-cars.
Splits are fashionable in the car supply industry right now. Delphi Automotive Plc and Autoliv Inc. have separated more prosaic activities like combustion engine parts, seat belts and airbags from the software and electronics stuff over the past year. Investors liked it. The combined market capitalization of the separated Delphi units has increased by about 40 percent since it announced the spin-off, by my calculation.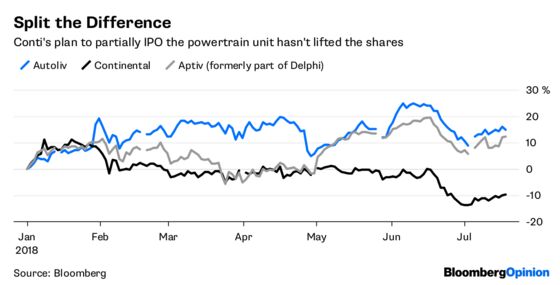 Unfortunately, Conti is opting for a less radical approach. Rather than spinning off the entire powertrain business to shareholders, it plans to sell only a minority stake. This has the advantage of raising cash for acquisitions or investments in new battery technology, but it probably won't boost Conti's shares by much. The stock trades on about 12 times estimated earnings, pretty much its average level over the past five years.
It's hard to frame this as a clean break when Conti is keeping control of the powertrain business. Furthermore, the unit spans electric vehicle systems and kit for combustion engines. The former don't make much money yet and suck up lots of investment, while the latter could require extensive restructuring in the future as demand wanes. In other words, it's a complicated investment case. The spin-off will cost Conti about 450 million euros, so is it really worth the effort?
A better approach would be for Conti to list a stake in its tire business. Tires aren't as fast-growing as electric or driverless vehicle systems, to be sure, but they're much more profitable. The company's tire operating margins have averaged about 20 percent in the past four years, one of the best records in the business. Winter tire specialist Nokian Renkaat Oyj trades on 16 times estimated earnings, which shows the potential.
Conti's management says a partial listing of the business isn't planned but is an option for the future. If a divisional name change can't rouse investors, a rubber spin-off might do the trick.
This column does not necessarily reflect the opinion of the editorial board or Bloomberg LP and its owners.
Chris Bryant is a Bloomberg Opinion columnist covering industrial companies. He previously worked for the Financial Times.