AbbVie Has Issues, But It Isn't the 'Next Big Drug Short'
(Bloomberg Opinion) -- Andrew Left's Citron Research has had prominent short-selling successes, including calling the spectacular implosion of Valeant Pharmaceuticals International Inc. (now Bausch Health Cos Inc.) 
But his AbbVie Inc. thesis needs work. Citron tweeted Thursday that AbbVie was "the next great drug short" and that its 12-month price target was $60. That's a robust call, AbbVie shares closed at $94 on Wednesday. 
By way of justification, the tweet cited Food and Drug Commissioner Scott Gottlieb's Wednesday comments on a new plan to increase the availability of biosimilars — equivalent to generics for complex biologic medicines — and possible changes to drug rebates as a "DIRECT HIT on Abbvie's abuse of Humira," the biologic blockbuster that accounts for 60 percent of its sales. 
Citron says "direct hit." I say "glancing, distant, and theoretical love tap." Thursday's 4 percent share-price drop probably isn't justified, let alone Left's call for a loss of a third of the company's value.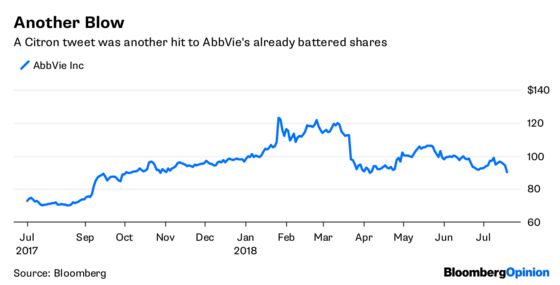 The FDA's plan is an interesting effort to increase sluggish biosimilar sales and combat high drug prices in the U.S. It proposes a variety of initiatives that could help get these drug copies to market faster and make it easier to prescribe and obtain them.
What it doesn't have is anything likely to hurt Humira's sales. The drug is protected by a robust wall of patents that several companies have failed to batter down. Several of the most threatening biosimilar developers have essentially capitulated by signing deals with AbbVie that delay their U.S. market entry until 2023, two decades after the drug's initial approval. 
Gottlieb said he wants to do away with some of the tactics that have led to that absurd and very expensive outcome. But the agency likely can't do much about Humira on its own in the near term. To the extent the effort brings about a more robust U.S. biosimilar market, that may cause Humira's sales to erode more rapidly eventually. But that's four years away. And anyway, everyone capable of making biosimilars has already been working on a Humira copy with a 2023 market-entry date in mind, hoping to capture some of the drug's $20 billion in annual sales. A quick revenue drop when these biosimilars actually hit was already a safe assumption.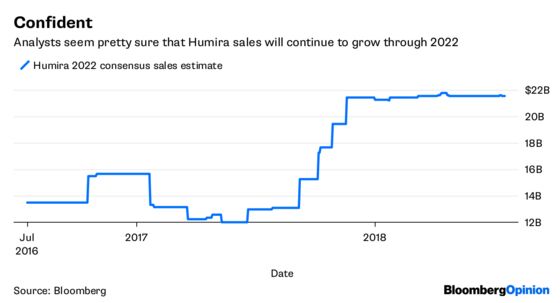 Biologic drugmakers combatting biosimilar entries have engaged in some pretty egregious uses of the drug-rebate system, in which pharma companies send discounts to pharmacy benefit managers (PBMs) to get favorable coverage for their medicines. 
But the changes to the system that the Trump administration is pursuing probably wouldn't have a unique effect on Humira, if they happen at all. Citron is also discounting the benefit that would accrue to AbbVie from not having to send about 30 percent of its revenue from the drug back to PBMs.
Citron promised more reports where perhaps it will better develop its thesis. And to be fair, AbbVie does have a massive Humira-sized hole to fill. I am personally somewhat skeptical of some of the company's product sales forecasts and ability to fill that hole. But again, that skepticism is already baked into its industry-lagging valuation.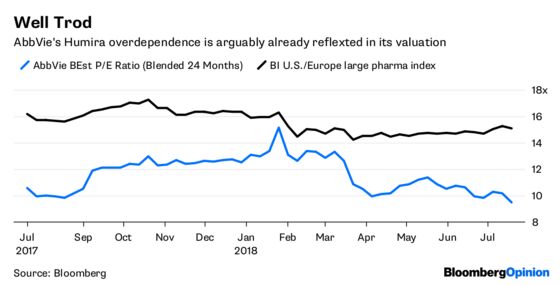 AbbVie remains risky and is too dependent on a single medicine. But nothing's happened recently that justifies Citron's price target. 
This column does not necessarily reflect the opinion of the editorial board or Bloomberg LP and its owners.
Max Nisen is a Bloomberg Opinion columnist covering biotech, pharma and health care. He previously wrote about management and corporate strategy for Quartz and Business Insider.