Debenhams' Wriggle Room Might Not Be Enough
(Bloomberg Opinion) -- Loss of credit insurance has played a part in several U.K. retail horror stories over the past decade. Investors in Debenhams Plc will be hoping the chain doesn't follow the familiar narrative.
One leading insurer, Euler Hermes, has reduced cover for suppliers, while rivals Atradius and Coface have refused to cover new shipments, the Sunday Times reported.
Credit insurance protects suppliers from the risk of a customer going bust. When insurers cut or withdraw cover, suppliers can demand upfront payment, putting a strain on a retailer's cash flow. Were Debenhams to have to pay creditors just 30 days earlier, that could create a cash outflow of 100 million pounds ($132.9 million), according to Michelle Wilson, analyst at Berenberg.
Debenhams played down the report on Monday. It said all credit insurers continued to provide cover to suppliers and it had a constructive relationship with them. But investors remained concerned: The shares fell as much as 8 percent on Monday, and were about 4 percent lower by midday. The company's bonds due in 2021 plunged to an all-time low.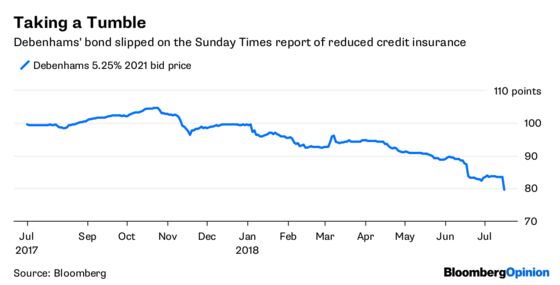 Debenhams has had a torrid time, with three profit warnings this year. 
The company is still suffering from its legacy of being in private equity hands between 2003 and 2006. Although it cut debt through a rights offering in 2009, it will still have 320 million pounds of net debt at the end of its financial year in August. A strategy five years ago that prioritized opening stores didn't help either, as this required expenditure and added to lease commitments. 
Debenhams may have some wiggle room to deal with higher cash costs in the short term. But even if any measures to cope with immediate pressures did the trick, the chain would still be vulnerable to deeper long-term challenges.
It already reduced its interim dividend by 50 percent. Cutting or abandoning its final dividend would be another step to conserving cash.
It is curbing costs and also paring back capital expenditure. While the latter could ultimately damage the prospects for success of Debenhams' turnaround plan, and its ability to prepare for the future, it is a useful defense right now.
As Louise Parker of Bloomberg Intelligence has noted, Debenhams' credit facility does not mature until July 2020, with a one year extension  option to June 2021, while its 200 million pound bond isn't due for another three years — though debt investors seem to have decided the breathing space isn't enough.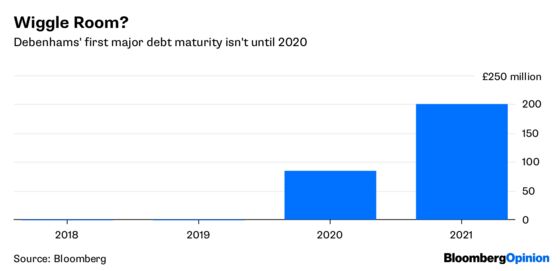 The timing for an issue with credit insurance is unhelpful — Debenhams is now approaching the point where it builds up its stock for the crucial Christmas trading season.  
True, there is capacity coming out of the market as rivals close stores, and official data show wage gains are finally outpacing inflation. So there is a possibility that conditions improve as the year progresses. 
The trouble is, it could take some time for those benefits to come through, and that may be time that Debenhams doesn't have. Competitors will offer discounts as they withdraw. And the renewal of consumer spending power need not translate into an immediate boost to sales — any knock to shoppers' confidence could cause them to tighten their purse strings.
The company is also considering shedding its Magasin du Nord department store chain. That could be worth up to 100 million pounds, which could be used to reduce debt. That is helpful, but the process of reviewing non-core assets is only just getting underway.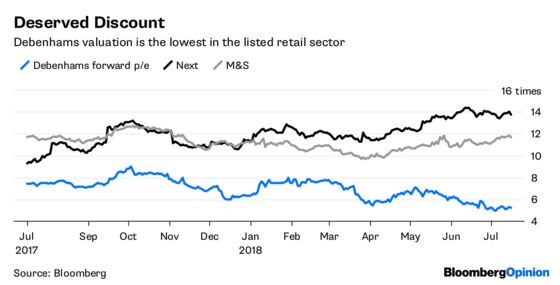 The chain has the least demanding valuation in the U.K. retail sector. That looks deserved. Any further step down in trading, or pick up in cash requirements, would make an already delicate situation even more challenging. 
Andrea Felsted is a Bloomberg Opinion columnist covering the consumer and retail industries. She previously worked at the Financial Times.