IMF Can't Say the Commodities Markets Are Complacent
(Bloomberg Opinion) -- The International Monetary Fund on Monday kept its forecast for global economic growth this year and next unchanged at 3.9 percent but said financial markets seem complacent to the mounting risks of escalating tensions over trade. The IMF economists have apparently neglected to look at the commodities market. 
While global equities and bonds have largely been range-bound the last two months, the market for raw materials has, in the parlance of traders, fallen out of bed. The Bloomberg Commodity Index of 26 raw materials ranging from oil to coffee to zinc has tumbled 9.53 percent from its year-to-date high on May 23, falling to its lowest since August. Last week's 2.76 percent drop was the biggest since early February. It would be easy to dismiss the declines as nothing more than computer algorithms gone wild, as some have suggested, except that they coincide with some disturbing data points suggesting corporate executives in the U.S. are becoming nervous while the economy is going gangbusters. First, the University of Michigan's monthly consumer confidence survey on Friday showed that the portion of its poll asking respondents about their outlook for business conditions in a year tumbled to its lowest since April 2016. On Monday, the New York Federal Reserve's monthly Empire Manufacturing index showed that the plans by companies in the New York area to increase capital expenditures in the next six months fell to its lowest since August.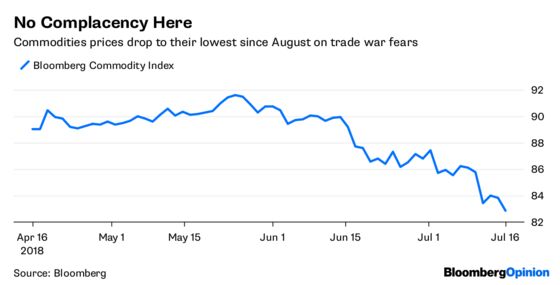 No less than BlackRock Inc. Chief Executive Officer Larry Fink, whose firm manages $6.3 trillion in assets, says that intensifying global trade tensions may spur a broad market downturn. Stocks could drop 10 percent to 15 percent and U.S. gross domestic product would start slowing in 2019 if the Trump administration sees through its threat to levy tariffs on an additional $200 billion of Chinese imports, Fink said in an interview Monday with Erik Schatzker on Bloomberg Television. It looks as if commodities are way ahead of Fink's dire forecast.
EARNINGS SOAR. STOCKS SHRUG.
For all the hype of how great corporate earnings were in the second quarter, with profits forecast to surge some 20 percent from a year earlier, investors sure are acting rather cautious. Yes, the S&P 500 Index closed on Friday at its highest since the start of February, but the benchmark isn't that far from where it was this time last month and was little changed on Monday. Of course, that reflects some of the jitters about the pace of economic growth going forward. But it also underscores a couple of inconvenient truths for investors. The first is that earnings beats no longer translate into vastly higher stock prices, according to Bianco Research. The first quarter was the fifth consecutive in which S&P 500 companies reported positive earnings surprises and yet the resulting positive reaction in their share prices was below the five-year average. The second is that with valuations so high — the S&P 500 is trading at 21.3 times earnings — anything less than full-throated optimism on the part of corporate executives is likely to disappoint investors.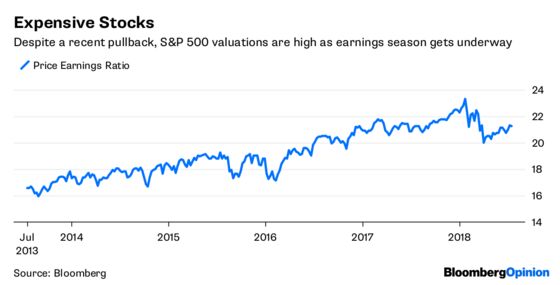 CASH PAYS AGAIN
In that light, perhaps it's no surprise that investors are funneling money into cash at the fastest pace since 2009. Year-on-year growth in money market fund assets has accelerated to almost 9 percent, according to Bloomberg News's Andrew Cinko, citing Investment Company Institute data. With the Fed having raised its key rate seven times since late December, investors are finally getting paid to hide out in cash. At 1.99 percent, the yield on a three-month money market bill is holding above the S&P 500's dividend yield of about 1.97 percent — and with much less risk. The Fed is showing no signs that it's ready to slow the pace of interest rate increases, which helped push the yield on the benchmark two-year Treasury note to 2.60 percent on Monday for the first time since 2008. A year ago, the yield was less than 1.40 percent. The Fed's current target for the federal funds rate is a range of 1.75 percent to 2 percent, and the market is pricing in about a 60 percent chance the rate will be increased to 2.25 percent to 2.50 percent by the end of the year. "That would seem to make the two-year yield still relatively low if one expects at least one hike next year and no cut in 2019," Marc Chandler, the head of currency strategy at Brown Brothers Harriman & Co., wrote in a research note Monday.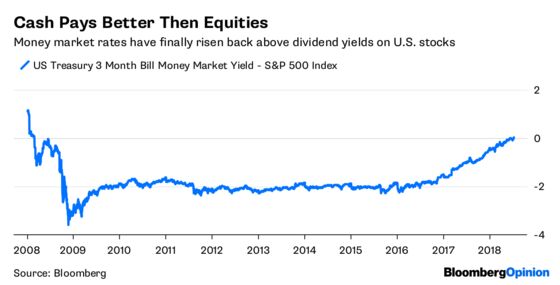 EURO RISING
In its report, the IMF cut its 2018 economic growth forecast for the euro area by 0.2 percentage point to 2.2 percent. Nevertheless, the Bloomberg Euro Index was poised on Monday to close at its highest since mid-May. After a string of disappointing reports between March and June, the region's economic data is starting to turn higher again, with fewer reports missing estimates than at any time since mid-March as measured by Citigroup Inc. indexes. Perhaps that's just a matter of the data meeting lowered expectations, but the trend provides a tailwind for the euro. Last week, an official report showed industrial production expanded by 1.3 percent in May from April, coming in slightly higher than the consensus forecast of 1.2 percent. The figure for April was revised up to -0.8 percent from -0.9 percent, adding a further surprise. "European data surprises continue to print positively against a backdrop of general improvement in asset market sentiment," Shahab Jalinoos, the global head of foreign-exchange trading strategy, wrote in a research note last week.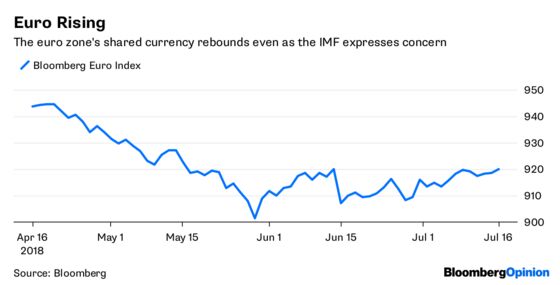 FRANCE WINS. ECONOMY DOESN'T.
France is not only a winner on the soccer field. Although the benchmark CAC 40 Index of French stocks fell Monday, it's up 1.82 percent for the year. That makes France the home of the only major euro zone equities index to show a gain this year, with those in Germany, Spain and Italy all down. By comparison, the STOXX Europe 600 Index has declined 1.32 percent in 2018. Even so, don't expect France's World Cup victory to give the country a lasting boost to the euro zone's second-largest economy. Typically, such events help morale and spending in the very short term, but very little beyond that. Eurler Hermes's Ludovic Subran said the victory might add 0.1 percentage point to France's gross domestic product of 1.8 percent, according to Bloomberg News's Helene Fouquet. Subran also figures the victory will improve consumption by 0.2 point to 1.3 percent. The 1998 win prompted a small jump in consumer confidence with no noticeable impact on GDP. French economic growth this year may still fall short of the government's 2 percent forecast and is set to slow in coming years, according to the Bank of France. It expanded 2 percent in 2017, the fastest in six years.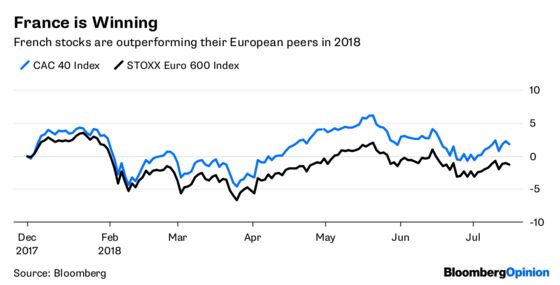 TEA LEAVES
Fed Chairman Jerome Powell will testify on the state of the economy  in front of the Senate Banking Committee on Tuesday, followed by a repeat performance in front of the House Financial Services Committee on Wednesday. It should be a victory lap for the central bank and Powell. Some measures suggest the economy grew at about a 4 percent rate last quarter, the unemployment rate is hovering around the lowest since 2000 and nobody is talking about the specter of deflation any longer. That's not to say it will be a total lovefest. Despite the abundance of jobs, Labor Department data on Thursday showed that wage growth is barely keeping up with inflation. Also, there is no shortage of economists who think that the economy has peaked and that a recession is possible as soon as late 2019 as the benefits of tax reform wears off and the budget deficit swells. Also, there's the possibility of a U.S.-induced global trade war causing a slowdown. The University of Michigan's preliminary July consumer sentiment data showed that 18 percent of survey respondents, the lowest since September, said they heard favorable news on business conditions related to government policy as concerns about tariffs mounted, according to Bloomberg News's Craig Torres.
Robert Burgess is an editor for Bloomberg Opinion. He is the former global executive editor in charge of financial markets for Bloomberg News. As managing editor, he led the company's news coverage of credit markets during the global financial crisis.