Brexit's Latest Savior Comes With Missiles Attached
(Bloomberg Opinion) -- British Prime Minister Theresa May once mocked her opponent Jeremy Corbyn for dreaming up projects that only a "magic money tree" could afford. Yet she's started to indulge in a little fantastical forestry of her own, judging by her ever-growing list of post-Brexit spending promises.
The latest gift designed to give the country a fighting chance after its EU departure is a combat jet dubbed "Tempest" — presumably in homage to a fighter plane used during the Second World War rather than an oblique joke about May's political position. The government says the project will keep Britain at the top table of military powers, support thousands of jobs and enter production just as the Eurofighter Typhoon — a Franco-German-Italian-U.K.-Spanish project dreamed up in friendlier times — is phased out.
An initial investment of 2 billion pounds ($2.7 billion) is being promised through 2025.
Getting a fighter plane to the development stage is one thing. But getting it into production, while delivering existing defense commitments, would require cash that Britain just doesn't have. Ben Moores, an analyst at IHS Markit, reckons the U.K. has about $4 billion in unallocated defense spending available for the next decade. That would in theory cover the initial Tempest investment as well as the replacement of other aging military aircraft.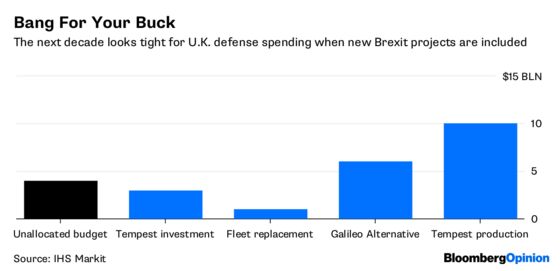 Yet it doesn't include other defense and aerospace items on the post-Brexit wishlist. What if the U.K. is indeed frozen out of the EU's Galileo satellite project, and has to carry through its threat to build a rival navigation system? That would cost an estimated extra 3 to 5 billion pounds. What if the country had to plow more into Tempest to get it into production by the mid-2030s, as promised? That could cost an extra $10 billion, according to Moores, if mooted partners such as Sweden and Japan can't be enticed to share the burden.
And it isn't just the arms industry that's being promised these juicy carrots. The 1 billion pounds handed to Northern Irish lawmakers for protecting May's hold on power and 20 billion pounds of extra funding for the NHS have led to accusations that the Conservatives are now the party of tax and spend.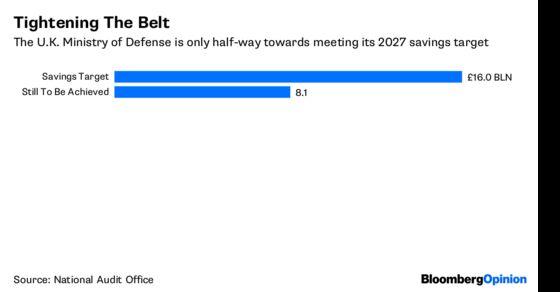 Some causes are worthier than others, of course. There's a lot of political pressure to pump money into aerospace as Brexit looms. It's a high-value industry that's home to tens of thousands of skilled manufacturing workers. Leaving the customs union and the single market risks freezing the U.K. out of future projects. Toulouse-based Airbus recently threatened to pull out of Britain in a "no-deal" scenario and has struck a partnership with France's Dassault Aviation on "military-combat airborne elements."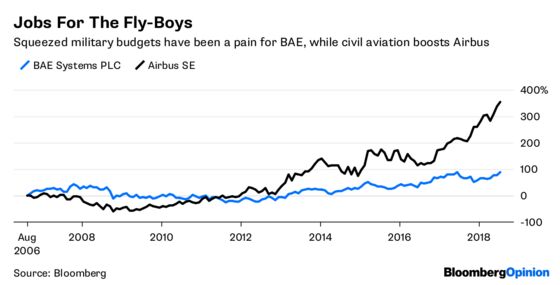 There are also questions about prestige and security of supply. BAE Systems Plc, Britain's historic maker of jet fighters, is cutting thousands of jobs after a lull in Typhoon orders. While BAE is a key supplier on the U.S. F-35, it's responsible for only about 15 percent by value of every plane built. The desire to retain the capability of building a full fighter jet has given hawks ammunition — especially with the imminent split from Europe and Donald Trump's embrace of Vladimir Putin..
But the nostalgic vision of Spitfires filling the air doesn't match financial reality. A tax hike to fund spending wouldn't feel like much of a Brexit dividend for the people. And arms manufacturers are hardly known for sticking to even the most generous budgets. Even the higher budget estimates for the Tempest appear wonderfully quaint when the costs for the F-35 run to hundreds of billion of dollars. BAE itself was at pains to point out that the Typhoon will remain the "absolute bedrock" of European air defense for decades to come, and that many of the early Tempest technologies will be used first on the Eurofighter.
A joke doing the rounds earlier this year was that Britain was set to become "Belgium with nukes," but at least Belgium's economy is expected to grow faster than the U.K.'s this year and next. A Tempest is an odd place to seek refuge from the Brexit storm.
Lionel Laurent is a Bloomberg Opinion columnist covering finance and markets. He previously worked at Reuters and Forbes.