Amazon Prime Day Could Be More Prime
(Bloomberg Opinion) -- Happy birthday to Amazon.com Inc. That is, after all, the occasion it's marking with the Prime Day hoopla, right?
Amazon has become the default starting point for online shopping in the U.S. because it's convenient, it sells practically everything and it is masterful at getting deliveries to doorsteps quickly. It's managed to lure more than 100 million members to its Prime program in part because it's a terrific place to buy something if you know what you're looking for. But in many categories, it's an unwelcoming place to shop if you're undecided.  
For certain kinds of purchases, it feels like shopping on Amazon has been shaped too much by technologists with outdated ideas, and not enough by merchants or anyone else in possession of a soul. Sometimes, the site doesn't seem to reflect the way actual human beings want to browse, discover, and make buying decisions.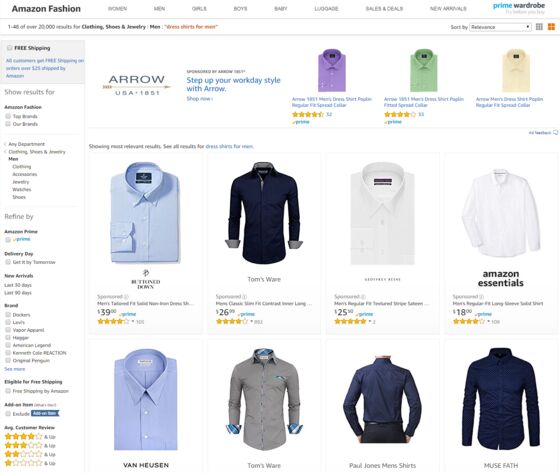 This weak spot is perhaps most obvious in clothing. The image above shows a starting point to browse men's dress shirts on Amazon.com. There are more than 20,000 options, and shoppers' only choices to narrow the selections are to single out certain brands such as Dockers and Calvin Klein, pick out the shirts with high marks from online reviewers or winnow by choosing from mostly unknown merchants. (Does any living person opt to buy only those shirts sold by "iWANPANTS"?)
Hunting for needles in Amazon haystacks is the way some people prefer to shop, but it's not a great experience for everyone. Just about every shopping website created in the last decade has figured this out. People surfing men's apparel brand Untuckit, for example, are presented with options to identify only those shirts that have checked patterns or just the plaid and flannel varieties. Would-be buyers can also sort by color, material, type of fit, style of collar, size, sleeve length and even whether they'd prefer a model with one pocket or two. This kind of guidance isn't Amazon's strong suit.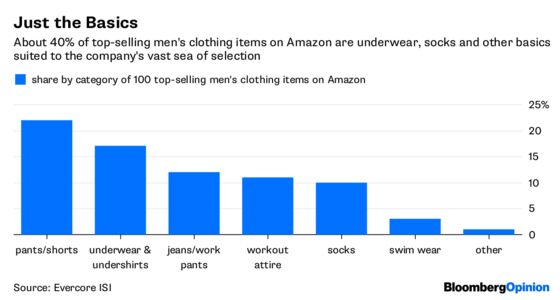 Even Amazon's newest offerings aren't necessarily intuitive. Prime Wardrobe allows shoppers to fill a box with several pieces of clothing, try them on at home, and pay for only what they keep.  Only certain items on Amazon are available for Prime Wardrobe, and the site makes that clear enough. But among those that are Wardrobe-eligible, some are only eligible in certain colors or sizes. What sense does it make to a shopper if she can add a certain pair of cropped culottes to her box in khaki, but not in red?
It's hard to prove Amazon's Achilles' heel has hurt the company's revenue, which has tripled in the last five years. And there's plenty that the company gets right. Other companies still haven't caught up to Amazon in important tasks such as customer service and ease of use. That shows up in customer satisfaction studies, where Amazon compares favorably to its peers.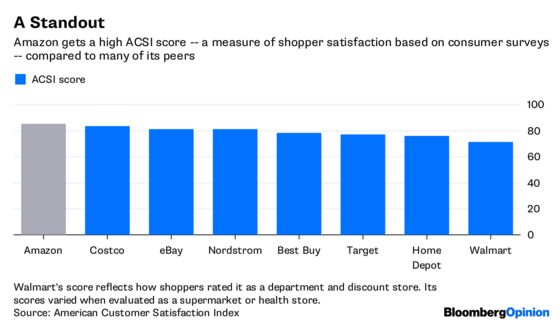 But shoppers have more choices than ever before, and they're growing less patient with flaws when they're trying to hand a company their money. If other retailers or brands were savvy, they could find ways to exploit Amazon's shortcomings. And for Amazon to keep growing, it needs to crack huge categories of consumer spending including clothing, furniture and groceries where people prefer to sift through and try merchandise in stores. Amazon knows this, and that's one reason it bought the Whole Foods supermarket chain, and reportedly has considered getting into furniture and appliance stores and apparel outposts. 
So, Amazon, we're sure you'll sell an absolutely unthinkable number of Instant Pots, Roombas and Kindles during Prime Day. Good for you. But it could be doing even better if Amazon focused less on invented holidays and more on re-thinking the shopping experience to reflect how humans think and behave.
Sarah Halzack is a Bloomberg Opinion columnist covering the consumer and retail industries. She was previously a national retail reporter for the Washington Post.
Shira Ovide is a Bloomberg Opinion columnist covering technology. She previously was a reporter for the Wall Street Journal.