There's No Subprime Bubble in China Auto Loans
(Bloomberg Opinion) -- Slowing car sales and tightening credit look like a toxic combination for China's auto-financing industry, which has exploded in the past few years. Concerns the sector is heading for a subprime-like meltdown may be overblown, though.
Sales in the world's largest car market rose 2.3 percent in June from a year earlier, data showed last week. While faster than several analysts expected, growth decelerated from an 8 percent pace in May. Compared with the previous month, deliveries fell about 1 percent in June.
The cooling coincides with Beijing's quest to deleverage the financial system, which has led to tighter liquidity, reduced access to credit and, in theory, squeezed consumer discretionary spending. In a report last week, analysts at Sanford C. Bernstein linked the weakness in car sales to a slowdown in peer-to-peer lending, pointing to "the deflation of what amounts to a subprime (P2P) auto bubble."
The relationship between car sales and credit in China is less clear than in other countries.
Like all forms of debt in the world's second-largest economy, car loans have expanded rapidly. About 40 percent of the annual 4 trillion yuan ($600 billion) of auto retail sales are financed, a penetration rate that's more than tripled from 12 percent in 2011. But that's still low compared with a global average of 70 percent and the U.S. rate of about 80 percent.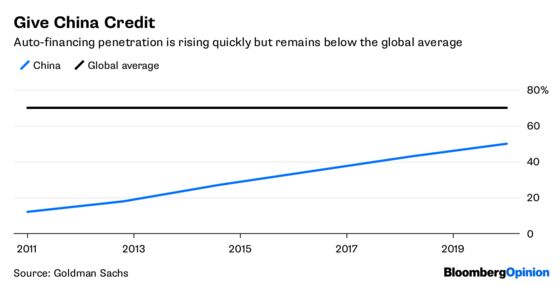 China's car loans are concentrated in higher-end or luxury vehicles, accounting for about 45 percent of sales versus 34 percent for mid-range models, according to research firm J.D. Power. More than half of BMW AG's sales in China are on credit, for instance, according to Goldman Sachs Group Inc.
A majority of loans in the 1.4 trillion yuan market are made by carmakers' captive finance companies, with dealers and banks accounting for most of the rest. These units pack loans into asset-backed securities, issuance of which totaled 16 billion yuan in the first quarter. The delinquency rate was around 0.1 percent, despite higher interest rates.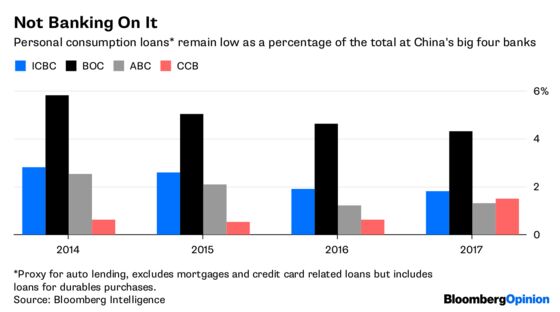 Other channels such as P2P lenders account for a much smaller portion. As of June this year, loans from these online platforms totaled about 17 billion yuan, or 9.4 percent of the broader internet lending industry, according to P2P lending data site wdzj.com. Much of that was concentrated in the eastern province of Zhejiang, a relatively wealthy area.
Chinese auto-financing products tend to have lower loan-to-value ratios and shorter terms than in other mature markets, creating a buffer against defaults. Financing has higher margins, meanwhile, generating about 20 percent of operating profits for some companies while accounting for less than 2 percent of revenue.
Take China Zhengtong Auto Services Holdings Ltd., a Beijing-based and Hong Kong-listed dealership that specializes in luxury cars. The company has increased its exposure to auto credit, taking secured borrowings on to its balance sheet that are mostly loans made by the finance arms of car manufacturers. Zhengtong's profit rose 71 percent last year as its financial services business assets — or loans — grew 64 percent to about 7 billion yuan.
Car buyers may start to default in greater numbers eventually, but even if delinquency rates do spike, there's less risk of a self-feeding spiral such as the one that triggered the U.S. subprime mortgage crisis a decade ago. That's because, unlike the value of houses in a locality, the sale of one dud car doesn't affect the price of another, especially when the market is small. In mature markets, for every new car sold, three used ones are traded. The ratio in China is about one to 0.4. 
The impact on car sales of reduced financing availability is another matter. About 40 percent of Chinese car buyers said they would delay purchases if they didn't have access to credit, according to a recent J.D. Power survey of more than 9,000 people. 
Still, slowing deliveries reflect other factors including manufacturers' inventory management and the withdrawal of government subsidies such as grants for building plants and tax incentives for consumers. The trade war with the U.S. will also alter the landscape, attracting new entrants and affecting pricing.
If China's car market is living on borrowed time, loans won't be the only culprit.