Cars Have Become Computers, But Going Digital Is Hard
Bloomberg
Opinion
(Bloomberg Opinion) -- Germany's big three luxury automakers — BMW, Mercedes-Benz and Audi — won't be participating in the 2019 North American International Auto Show in Detroit. It's a big decision for car companies to eschew an auto show, and there's also a big reason why: These days, many of them find CES in Las Vegas to be a better platform for product launches.
A look at CES exhibitors over time reveals something quite striking: There are now more automotive and vehicle technology exhibitors at the annual trade show than there are computer hardware and software exhibitors. German automakers aren't alone in positioning their technology within an entire ecosystem of devices that enhance passenger experience and driving, ones that will also eventually remove humans from the driving loop entirely.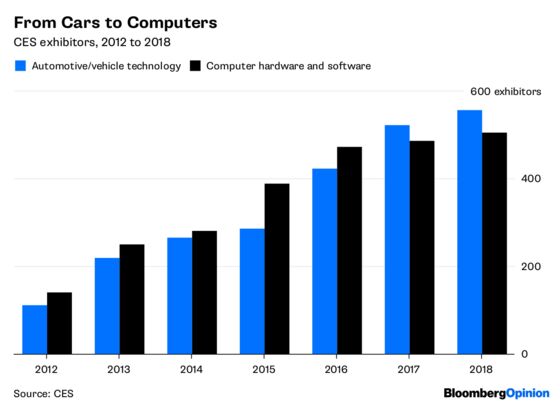 Making cars is hard. Big automakers have had a century to get it right, but they've had far less time to master apps and customer service, which are increasingly important for the future of transportation. When users of an automaker's own car-sharing app say "Stick to big trucks and dealerships, not tech and user experience," it's a sign that there's work to be done. Automobile technology might make a bigger splash these days than computer hardware, but automakers themselves still have much to master in a shared, connected, digital automotive age.