Norwegian Air Shuttle Conquers America
(Bloomberg Opinion) -- At this rate Norwegian Air Shuttle ASA is going to need a new name. Sales to American passengers have doubled in the past year, as they flock to its bargain transatlantic fares and snazzy new planes. It's plausible that U.S. revenue will one day leapfrog Norwegian's domestic sales. "American Air Shuttle" does have a ring to it.
Other assumptions about Norwegian may need to be rethought too. Second-quarter earnings published on Tuesday were surprisingly good, considering the airline's breakneck — and expensive — transatlantic expansion.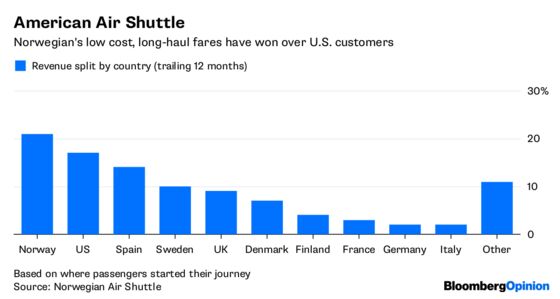 The 300 million kroner ($37 million) net profit eked out over the past three months benefited from one-off items and currency swings. But it was an answer of sorts to doomsayers such as Ryanair Holdings Plc's Michael O'Leary, who says Norwegan isn't "long for this world." The shares rose as much as 8 percent.
Yet profit is only part of the story. Having ordered too many aircraft and failing to hedge adequately against rising fuel prices, the company is still in a parlous condition.
Net debt and capitalized leasing liabilities total more than 6 billion euros ($7 billion), while net assets are just 400 million euros — not far above the level it needs to comply with financial covenants. That's worrying because free cash flow was negative by about 600 million euros in the first six months of 2018.
Chief executive Bjorn Kjos, a growth-mad former fighter pilot, does at least seem to be learning moderation. He has scaled back capital expenditure for this year and next and plans to divest some older aircraft. He's done a reasonable job of cutting costs, in part by squeezing suppliers.
He's also been helped by takeover interest from British Airways owner IAG SA and Deutsche Lufthansa AG, which has put a floor under the shares in recent months. 
Kjos, who controls a quarter of the shares, has hinted he doesn't want to sell but insists the decision is a matter for the board. That's always seemed a little far-fetched as he and the chairman Bjorn Kise have been business partners for years. The board would be obliged to consider a bid if it looked like Norwegian was failing, but maybe not if Kjos can stop the rot.
"The desires of anyone investing in the shares may not always be similar to those of the largest shareholder," cautioned the prospectus for Norwegian's recent fundraising. There's a risk of a "significant drop" in the stock price should a bid from IAG or another airline not materialize, the document added.
In the meantime, Kjos is working overtime to convince the market that the takeover froth in the share price can be replaced by investor belief in its future as a standalone company — namely, that it will one day generate enough cash to more than just cover its liabilities.
For now, that remains a hope rather than a reality. Norwegian has yet to prove that flying passengers long distances for peanuts is a winning formula. Bernstein analyst Daniel Roeska thinks it loses as much as 25,000 euros on each long-haul flight. Still, on current form, Norwegian could be a bit longer for this world than its critics thought.