Trump's Turned Asia Junk Investors Into Nervous Nellies
(Bloomberg Opinion) -- Donald Trump has made Asian high-yield investors nervous wrecks.
First, there are the obvious casualties of his trade war against China. Lenovo Group Ltd.'s bonds are down to 87.4 cents on the dollar from more than 100 cents at the start of the year.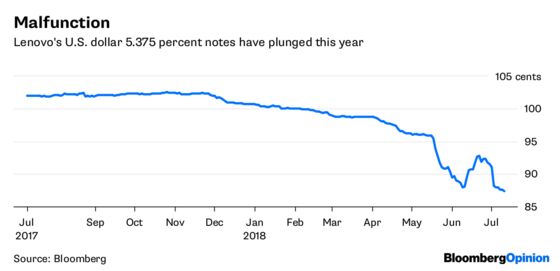 Then there's the collateral damage of his greenback-boosting, late-cycle fiscal stimulus, which is making investors worried about Asian currency weakness. Indonesian notes are swimming in a sea of red ink.
PT Lippo Karawaci bonds have cratered of late. Moody's Investors Service named the Indonesian developer as one of the five South and Southeast Asian high-yield, nonfinancial issuers (among the 49 it studied) that may be vulnerable to a sustained depreciation in their home currency.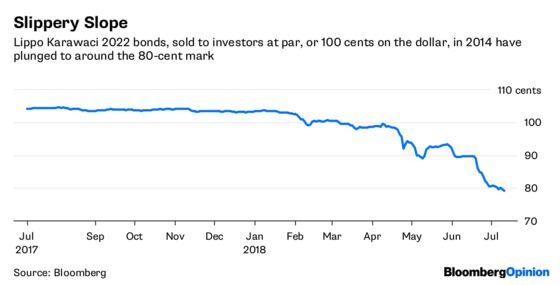 Trump is also having a third "Oh no, not now" effect. Any company-specific bad news, which until last year was being conveniently shrugged off by leveraged private-bank clients, suddenly looks like an excuse to dump. Think Tata Steel Ltd. has overpaid to help Bhushan Steel Ltd. out of bankruptcy? Sell Tata bonds. Glenmark Pharmaceuticals Ltd. didn't hit expected sales figures for its Zetia drug? Best offload Glenmark as well then.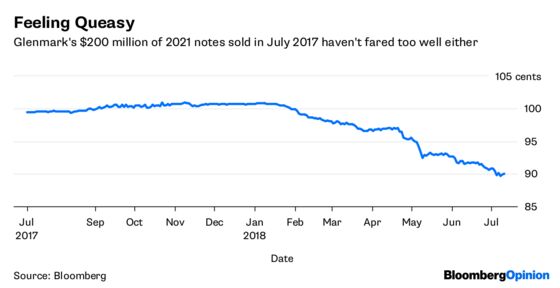 Bank of America-Merrill Lynch's latest Asian credit survey shows investors are the most morose in the poll's history. In June, 13 percent were net underweight; now 24 percent are in risk-off mode. The asset class is likely to see outflows in the coming three months, the survey shows.
Then there's a fourth round of impact, for which Trump's squeeze on China is tangentially responsible. The main culprit, however, is the resumption of worries around Chinese developers' and local government financing vehicles' ability to shield their credit bubble from pinpricks. President Xi Jinping wants an orderly deleveraging. For that he needs global growth and commodity prices to hold up, which is a big ask.
Liquidity in Asian high yield is so bad that, after a little haggling, a bond quoted at 94 cents on the dollar can be had for 91 cents. Sellers are panicking. Buyers are seeing some value in a few BB-rated names. But there's so much optimism surrounding U.S. companies' tax-cut-fueled earnings growth that rich clients are being told by private banks not to try to catch too many falling knives in Asia.