It's Rupert Murdoch vs. Hedge Fund Greed at Sky
(Bloomberg Opinion) -- Just give us more. The auction for Sky Plc has become a spectacle of greed. On Wednesday, Twenty-First Century Fox Inc. made a fresh 14 pounds-a-share offer, valuing the British satellite broadcaster at 25 billion pounds ($33 billion).
But the hedge funds had seen it coming, and had sent Sky's shares above that level by the end of last month. Bidders for Sky look like a modern-day Tantalus, condemned to grasp at fruit permanently out of reach.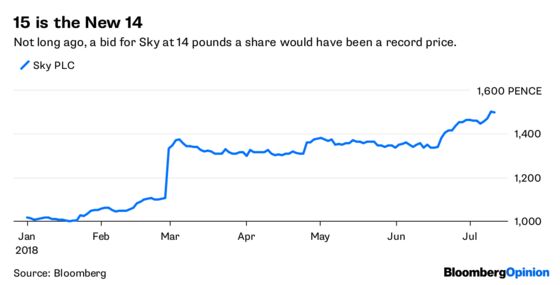 Sky's independent directors were right to recommend the latest offer despite it falling short of the current share price of about 15 pounds. Absent a takeover battle, the stock would probably trade somewhere between 9 pounds and 10 pounds. It's hard to see how the broadcaster could, on its own, get the shares to the bid level in the foreseeable future.
What's more, the latest offer raises the floor under the stock. Previously, Comcast Corp.'s 12.50-pound offer had provided some support.
Remember that the battle for Sky is part of a much bigger war between Comcast and Walt Disney Co. for control of Fox's entertainment assets. One risk for shareholders in the British company was that the three struck a deal to carve up Fox and Sky between them, leaving Comcast's offer the best thing on the table.
But Sky's board doesn't deserve all the credit. The new offer can be seen as the result of the revised deal that Disney struck last month to buy most of Fox, including its 39 percent stake in Sky.
This should trigger a separate bid by Disney for Sky under U.K. takeover rules designed to prevent them taking control of the British firm by the back door. Disney and Fox, which are partners, are just getting ahead of that.
Investors expect the mandatory bid will be about 14.60 pounds a share. Disney wouldn't have to make this offer until its Fox deal completes, potentially a year from now. Apply a discount for the time value of money, and that mandatory bid is probably worth about the same as Fox's offer today. If there was any doubt that the U.K. Takeover Panel is the invisible hand in all this, Disney has offered to pay compensation to Fox if the latter succeeds in buying Sky but it fails to acquire Fox. This means Fox would be paying only 13 pounds a share.
It's now up to Comcast to come back with a higher bid. Even if it passes on the Sky auction and focuses on outbidding Disney for Fox, it will be caught by the same U.K. takeover rules that will require it to make a follow-on bid for the British target.
Sky investor Crispin Odey thinks the company could fetch 18 pounds a share. A lurch much beyond 15 pounds looks harder to justify. A bid at that level wouldn't cover Sky's cost of capital within three years. A higher synergy number -- roughly double the current $500 million Comcast gave -- might just get it there. Or Comcast could wait longer for the deal to create value.
Sky's board has (generously) allowed Fox the right to amend its bid so it needs to get acceptances from owners of just more than 50 percent of the stock. It only needs 11 percent to get there. That, and the break fee Disney is offering Fox, should take some of the heat out of the auction.
The scope for Sky's share price to run much further ahead of the bids offered is narrowing. Even hedge fund greed has a limit.