Sainsbury's New Shopkeeper Is Missing One Item
(Bloomberg Opinion) -- J Sainsbury Plc has a new shopkeeper.
Martin Scicluna, currently chairman of RSA Insurance Group Plc, will succeed David Tyler in the same role next year. He looks a sensible choice, and has the skills to cope with a number of key challenges the supermarket now faces — except for one very important one. The company faces serious competitive pressure, and Scicluna has no direct retail experience.
At least he's not arriving to clean up a mess in the boardroom aisle. Tyler has done a decent job in difficult circumstances. He oversaw the succession in 2014 from long-serving Chief Executive Officer Justin King to Mike Coupe, who has proved to be a far more dynamic leader than many had expected.
He also backed Coupe in two radical acquisitions: the purchase of Argos in 2016 for about 1 billion pounds ($1.32 billion), and April's deal to buy Asda from Walmart Inc. for 7.3 billion pounds. Tyler and Coupe proved canny negotiators in both cases.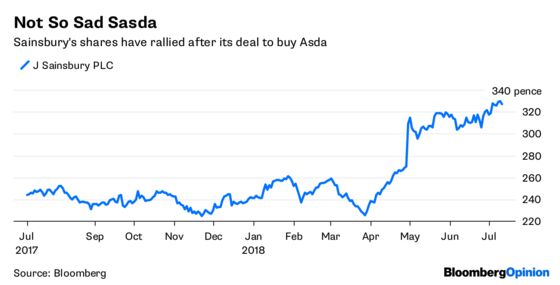 As Tyler prepares to depart in March, an assessment of his career in British business should contain a blot. He is also chairman of mall owner Hammerson Plc, where he faces questions on why the company believes it is worth more than what was on offer in two informal bids from Klepierre SA, which it has rejected. 
Still, he and Coupe may have pulled off a coup with Asda. For Scicluna, the trickiest part is yet to come.
The new chairman will have to deal with a lengthy anti-trust review. By the time he arrives, this process should be well underway. The risk here is that a large number of store disposals could unravel the economics of the deal. His commercial property background could be a help here — he is now chairman of Great Portland Estates Plc, although he will step down from that role. 
Scicluna is also likely to have to manage the succession to Coupe, 57, who's been in the role for four years. Assuming the acquisition of Asda goes ahead, a logical point for him to step down would be after the deal has bedded in and promised cost savings delivered. That may be some way off, but it's never too soon to start planning.
There are several internal candidates: John Rogers, the former finance director who now leads the Argos business, and Chief Financial Officer Kevin O'Byrne. Asda CEO Roger Burnley was a former senior director at Sainsbury, and was well regarded within the supermarket. 
Fortunately Scicluna also has experience here: He was chairman of RSA when it appointed Stephen Hester as chief executive in 2014. That he has been able to work with a high-profile CEO is encouraging — when he arrives at Sainsbury, Coupe will also be well-established, never the ideal situation for a new chairman. The danger is that it is the CEO, not the chairman, who runs the board.
He seems to have managed some difficulties at RSA. He stepped in to replace the CEO after three profit warnings, a difficult period that cumulated in Hester's appointment. He hasn't had to do much over the past few years as the group recovered.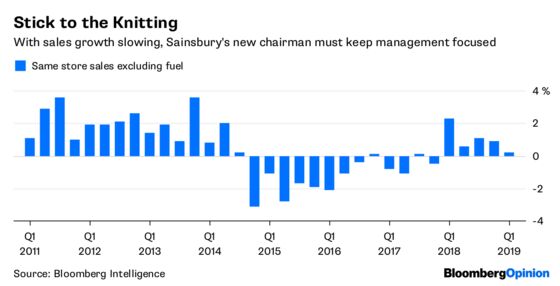 But his lack of retail experience is a major concern. Although he did advise retailers as a partner at Deloitte, that's different to actually running one, or a big consumer goods group. It looks like Sainsbury has made its big strategic moves, but times are changing so quickly that he'll have to be ready to face whatever new challenges come his way. 
Scicluna has much going for him. But a shopkeeper who has actually run shops would have been helpful.