Ping An's Right to Be Taking Stock
(Bloomberg Opinion) -- Ping An Insurance (Group) Co. is busy taking stock. Literally.
China's largest insurer by market value on Tuesday said it plans to purchase a 19.7 percent stake in property developer China Fortune Land Development Co. The same day, people familiar with the matter said the company was in talks with other investors about a potential joint bid for Beijing-based plasma treatment provider, China Biologic Products Holdings Inc.
With China's stock market down in the dumps, Ping An's swift move to acquire stakes in listed firms looks smart.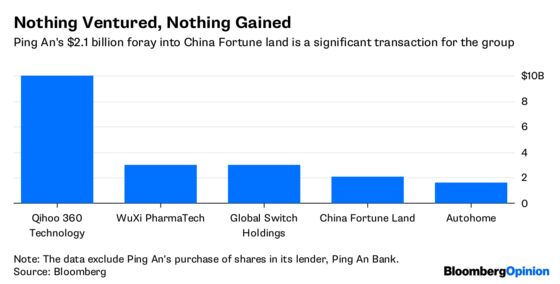 Such transactions aren't entirely new for Ping An – it was part of a group that successfully delisted Qihoo 360 Technology Co. from U.S. markets and relisted the company at several times its previous value in Shanghai.
The insurer's own Hong Kong-traded shares – down 14 percent since January – have fallen out of favor for several reasons. JPMorgan Chase & Co. says investors are worried insurance giants will have to tap equity markets for funds, while Bernstein Research blames a 12 percent decline in first-quarter sales coupled with the fintech sector losing its luster after a regulatory crackdown.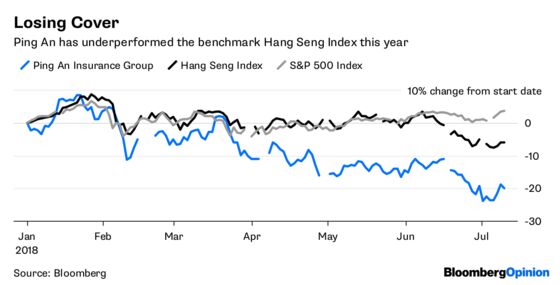 Ping An's recent spinoffs – ZhongAn Online P&C Insurance Co. and Ping An Healthcare & Technology Co. – aren't faring too well either. While both priced at the top of their IPO ranges, they're now underwater, like many new listings in Hong Kong. It doesn't look good for another offshoot, OneConnect, a financial management portal that's said to be working on a $3 billion share sale. Meanwhile, the float of peer-to-peer lending giant Lufax, which could rake in billions of dollars for Ping An, also remains in doubt.
Piling into listed stocks in the expectation of gains might be a better strategy for Ping An at this juncture.
China Fortune Land is down 40 percent from its February peak, but property is a sector Beijing will never allow to collapse. For most Chinese, real estate remains their largest store of wealth. It's one reason insurers love holding developer stocks.
China Biologic's Nasdaq-traded shares have already risen 35 percent this year but there's room for further upside. The company's at the fore of modernizing plasma treatment and should benefit from President Xi Jinping's Made in China 2025 initiative. Venture capital investment in the nation's healthcare industry surged to $11.7 billion last year from $1 billion in 2013, according to McKinsey & Co.
With Ping An's IPO pipeline facing an uncertain future and insurance sales in a (temporary) slump, this stock diversification is a welcome move.