Comcast Can Still Win by Standing Pat in Fox Hunt
(Bloomberg Opinion) -- It's billionaire summer camp week in Sun Valley, Idaho. For Brian Roberts's sake, I hope he doesn't share a whitewater raft with Rupert Murdoch and Bob Iger. 
The three media moguls are locked in a battle over the fate of Murdoch's 21st Century Fox Inc. and Sky Plc, the British pay-TV company and broadcaster that Fox partially owns. On Wednesday morning, the stakes were raised once again, with Fox boosting its bid to acquire the remaining shares in Sky for 14 pounds each, a 12 percent premium to a rival bid from Roberts's Comcast Corp. and 30 percent higher than the price Fox originally offered in December 2016. The deal values Sky at about 25 billion pounds ($33 billion).
There's sure to be some awkward glances at the outdoorsy Allen & Co. conference — like when you spot a person you sort of know and give the nodding frown-smile, trying to avoid too much eye contact. The conference is a chance for the rich and powerful in media (an aging cohort) and tech to mingle and devise deals. Warren Buffett has called it "acquisitions by walking around."
But Roberts and Disney's Iger already know what they want, and unfortunately for them and their shareholders, they want the same things. Fox is one of the last remaining big attractive bundles of entertainment assets up for grabs, and scale seems to be the name of the game for companies hoping to compete against Netflix Inc., Amazon.com Inc. and other interlopers from the tech world. Last month, Netflix surpassed Disney and Comcast as the world's most valuable media company.
Fox agreed in December to sell its U.S. and international TV and film businesses — essentially everything but Fox News and its national sports networks — to Disney for $52.4 billion in stock. Comcast, which lost out in the private bidding process, re-emerged publicly in June with an all-cash counteroffer for $65 billion. That prompted Iger to raise Disney's offer to $71.3 billion and to add some cash to the mix. (These figures don't include the assumption of Fox's debt.) The Sky bidding war is happening in tandem, as Disney was planning to also take control of that business by way of acquiring Fox.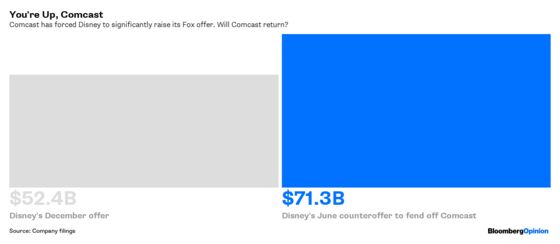 Disney has already cleared two obstacles that stand in the way for Comcast: Disney's balance sheet had plenty of room to make a more palatable cash bid, and the U.S. Justice Department recently approved the acquisition. While Comcast is pushing the notion that it can secure regulatory approval just as easily as Disney did, I'm not convinced — and that's not because Murdoch, who prefers the Disney transaction, has President Donald Trump's ear. Comcast is the largest U.S. provider of internet, a costly and necessary service for streaming TV and movies from apps like Netflix, and it has expanded into mobile offerings. Comcast can't stop the exodus of cable subscribers, but it can control their access to cheaper viewing options. 
Because Comcast would be offering all cash, it would have to take on a boatload of debt and become the largest nonbank borrower after AT&T Inc., which is saddled with $180 billion of debt after completing its own takeover of Time Warner Inc. last month. Comcast is ostensibly working hard to come up quickly with a fresh offer that Fox shareholders can't refuse; they're scheduled to vote on Disney's latest deal July 27. Comcast is said to be doing everything from exploring partnerships with private equity firms to searching for buyers for Fox's regional sports networks — the assets that the government has required Disney to sell — should doing so speed up its own regulatory review and provide more firepower to go after Sky. 
Deals that become this messy and difficult to get done are often the most problematic down the road. But Roberts doesn't need to worry too much that Comcast investors are already voting with their feet. As I explained last month, Roberts is cemented as chairman and CEO of the conglomerate his father founded thanks to an unusual set of articles of incorporation, which mean activist shareholders can't push him out even if they think his pursuit of Fox is getting out of hand.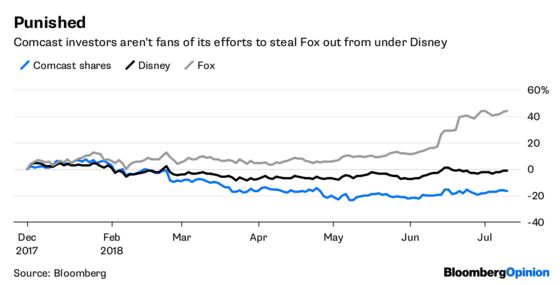 But as I've said before, there's the chance that driving Disney to overpay is just as much a victory for Roberts as getting control of Fox himself. Despite leaks to the press that give the sense that Comcast is about to come out swinging, Roberts could very well just walk away, giving Iger and Murdoch the silent nod.