Tesco's Star Steps Away From the Limelight
(Bloomberg Opinion) -- Just five months after being named the chief executive of Tesco Plc's U.K. arm, Charles Wilson is to step down from the role after being diagnosed with throat cancer.
In a statement on Tuesday, Wilson said that his treatment has been going well and that he was back to working full time. He will continue to lead the group's wholesaler, Booker, on a day-to-day basis – as he has for years – and will also remain on the Tesco executive committee. However, he also said that he was "not fully up to running" Tesco U.K.
While devastating for Wilson, this is also a blow for Britain's biggest supermarket.
The U.K. has always been Tesco's core, and with the disposal of international businesses, such as Korea, over the past few years, it is even more reliant on its domestic operation. It also faces a new muscular rival in the form of a combined J Sainsbury Plc and Asda.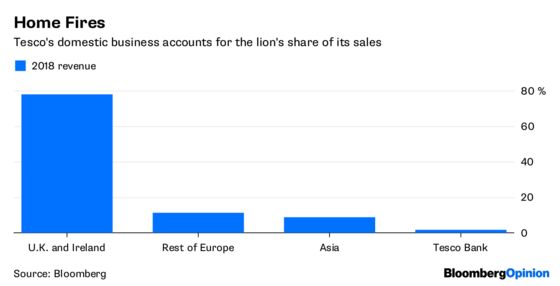 Jason Tarry, group chief product officer, will become CEO of the U.K. business. While a competent leader -- he took charge of Tesco's overhaul of its relationship with suppliers after its profit overstatement in 2014 -- he does not have Wilson's stellar track record. Wilson transformed Booker from a heavily indebted group to a successful and valuable one.
Indications were that he was already making his mark on Tesco U.K., with Booker performing well, and sensible strategic steps, such as closing the Tesco Direct online business and ditching the price-matching plan. The group's new buying alliance with Carrefour SA certainly bears his imprint.
But investors have high expectations. Shares in Tesco rose 27 percent between March 5, when the Booker deal completed, and Monday. They even shrugged off the announcement of Sainsbury's purchase of Asda in April. However, the news about Wilson drove them down 1 percent.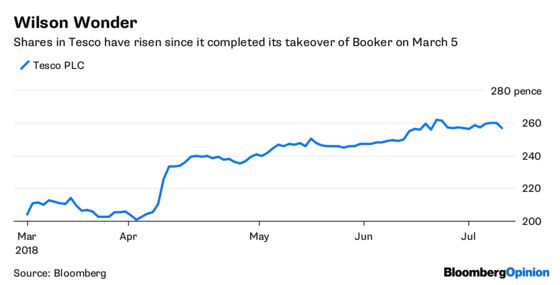 As a member of the executive committee, Wilson will continue to contribute to Tesco's broader strategy – part of his role at Booker will be delivering the 200 million pounds ($265 million) of synergies due from the acquisition. And he will remain a big investor, holding about 1 percent of the shares.
But Wilson was also widely expected to succeed group CEO Dave Lewis. That looks unlikely for the immediate future. In the meantime, Lewis needs to ensure that Tesco's performance remains on track and that the promised savings materialize.
The situation is a test for Tesco chairman John Allan. He's going to have to navigate the succession issue if – or when – his CEO decides to go. Lewis has been in his role for almost four years. A big chunk of his share options will vest over the next three years, so he might want to hang on to receive those. That would give Wilson time to fully recover and to succeed Lewis -- if he wants to.
A trickier scenario would be if Lewis were to decide to leave sooner to take up the role of Unilever NV chief executive, something I have argued is a possibility given that the consumer goods group has begun the search for a successor to current head Paul Polman.
The purchase of Booker always looked like a succession plan, and one that Tesco really needed. The shock of Wilson's serious illness has thrown that into doubt.