Son Has a Plan for Yahoo Japan. It Begins With D
(Bloomberg Opinion) -- A shoe just dropped for Masayoshi Son.
Shares of Yahoo Japan Corp. rose as much as 13 percent Tuesday after SoftBank Group Corp. said it will buy $2 billion worth of stock in the internet portal, or an 11 percent stake, from Altaba Inc. Investors were elated because the block sale eased concerns over a messy open-market sale that could hurt minority shareholders. SoftBank's stake will rise to about 48 percent from just under 43 percent after a concurrent buyback by Yahoo Japan. Altaba will be left with 27 percent.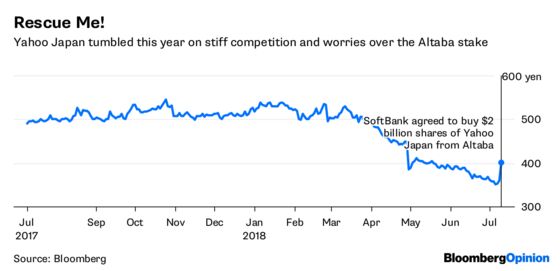 The question now is what Son plans to do with Yahoo Japan.
The SoftBank founder doesn't like to let his investments sit idle. SoftBank has regularly used its Yahoo Japan shares as collateral for bank loans at home. The strategic value of the stake has diverged from its market price as the stock plunged by a third in four months before Tuesday's surge. But now that SoftBank has increased its control, Son can do more.
Yahoo Japan is a cash cow that can reliably generate $2 billion of Ebitda per year. As I have argued, the internet company could raise as much as $12 billion of loans based on a ratio of 5 to 6 times Ebitda – the scale of financing private-equity firms can obtain. For SoftBank, using Yahoo Japan's balance sheet beats borrowing against the value of its stake, given that banks often deeply discount stock used as loan collateral.
SoftBank is looking to list its domestic telecom business, so the company can no longer use that subsidiary's cash flow as guarantees for corporate loans. A new source of liquidity certainly would come in handy for a conglomerate that has more debt than Venezuela.
A snag is that Yahoo Japan's management has a different plan. The company is tussling with Rakuten Inc. in a land grab for Japan's e-commerce market. Yahoo Japan has promised to sacrifice as much as 30 percent of its 2018 fiscal year operating income in this quest.
Competition is stiff, with even Amazon.com Inc. marching in. Over the past three months, analysts revised down their estimates for Yahoo Japan's 2019 earnings by 21 percent, sending the shares tumbling.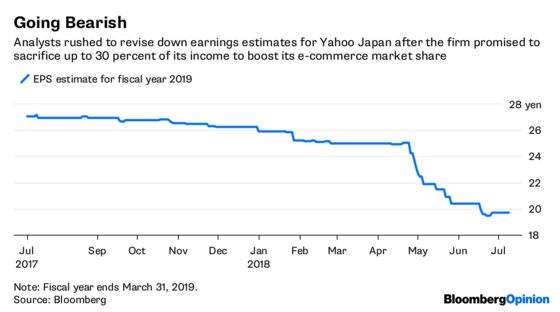 E-commerce is a rare bright spot in Japan, but will Son use his firepower to combat Amazon, which is offering sweeteners to members of its Prime subscription service as well as teaching its voice assistant to speak Japanese? More likely, SoftBank will target more vibrant markets such as India and the U.S., just as it has done in the past.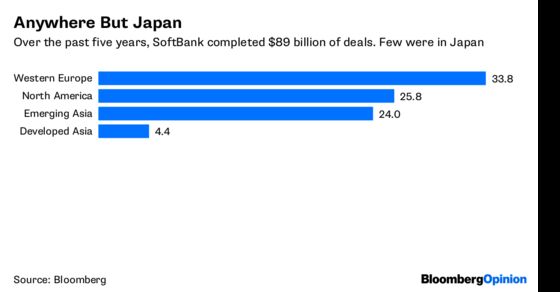 He couldn't be blamed. The conservative nature of Japan Inc. – perhaps exacerbated by the 2011 tsunami – has led to a nation with no animal spirits. After the IPO of e-commerce operator Merceri Inc., Japan has just one unicorn. China produced 35 since the start of 2017 alone.
So the chances are Son will take the private-equity view. Prepare for Yahoo Japan to pile on more debt.