That Giant Sucking Sound is Post-Brexit London Losing Out
(Bloomberg Opinion) -- Lingchi is the Chinese word for a form of torture in which flesh was systematically sliced from the body of the condemned, resulting in death by a thousand cuts. It was banned there in 1905; but, with Brexit looming, the practice is set for a revival in the City of London.
The British government continues to be riven by disagreements over what it wants its future relationship with the European Union to look like. And while the U.K. so far has only had one referendum on Brexit, the financial services industry gets to vote as often as it wants — and it is signaling deep disquiet with the likely outcome.
U.S. asset management behemoth BlackRock Inc. and investment bank Citigroup Inc. have been persuaded to expand in Paris with the promise of reduction in red tape, according to the Financial Times. JPMorgan Chase & Co. said last week that it's asked "several dozen" of its London employees to relocate to other cities in the EU including Paris, Madrid and Milan. The moves could accelerate "depending on the outcome of negotiations," the bank said in a memo.
The U.K. has already conceded that it won't have the same access to EU markets for services after the divorce. The government said last week that it will seek "arrangements on financial services that preserve the mutual benefits of integrated markets and protect financial stability, noting that these could not replicate the EU's passporting regimes." 
That's not a particularly reassuring vision. Offering crash courses in French, Italian and German to soon-to-be-London-emigres could be a growth business for some enterprising entrepreneur.
So it's little wonder that the number of foreign direct investment projects established in the U.K. last year declined, while other countries won more business, according to the latest U.K. Attractiveness Report published by consulting firm EY on Monday.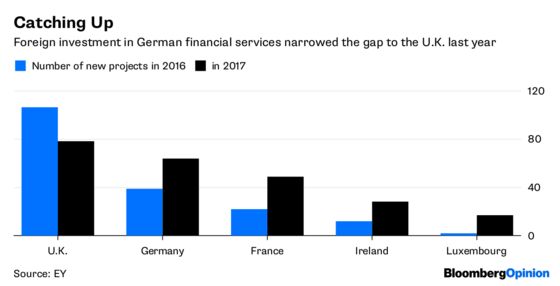 The drop in projects has real consequences. The U.K.'s share of the jobs created by the financial services industry in Europe shrank to 16 percent last year, its lowest level in a decade, according to EY. Back in 2016, the figure stood at 37 percent.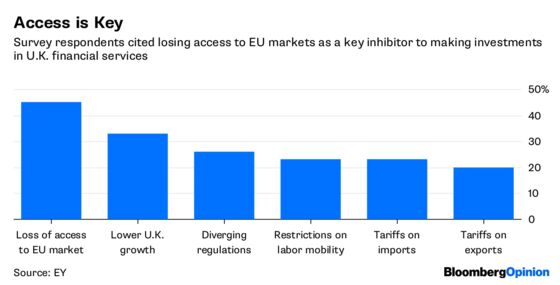 Ross Perot was wrong when he suggested in the 1992 presidential campaign that the "giant sucking sound" was the U.S. losing jobs as a result of the North American Free Trade Agreement. But it's increasingly hard to see how London can avoid an outflow of bankers, traders and investors if the current state of uncertainty persists. 
The U.K. capital may, for now, remain the favored destination for investment in Europe, and it's not about to hang up its brogues just yet. But money has always flowed to where it feels welcome and stayed where it's well looked after. Given the current government's apparent disdain for business in general and financial services in particular, no wonder London's rivals are slowly carving out chunks of its business.