Keeping a Billionaire's Satellite Dream Spinning
(Bloomberg Opinion) -- If you're a foreign bidder bent on a controversial takeover of a U.K. company, you can do worse than use the playbook Softbank Group Corp. turned to when it acquired chip designer Arm Holdings in 2016. Start with a knock-out offer the target just can't refuse, and pay in cash rather than your own wobbly shares. With the board on side, the politicians will accept a few promises on investing in Britain in return for not being awkward.
By contrast, EchoStar Corp. has chosen to be more opportunistic in its pursuit of London-based satellite operator Inmarsat Plc. Perhaps that's only to be expected from its billionaire poker-pro founder Charlie Ergen.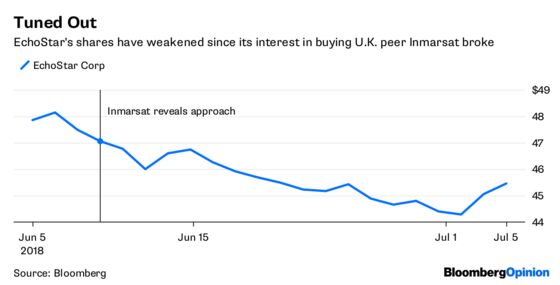 A tentative approach in late May leaked a week later. Under Britain's takeover rules, that triggered a 28-day deadline for the suitor to make a binding offer or quit. On Friday, at the eleventh hour, EchoStar revealed a sweetened, but unconvincing, 2.45 billion pound ($3.2 billion) proposal which the Inmarsat board has justifiably rejected.
The mooted offer would be roughly half in cash and half in EchoStar stock and worth about 532 pence per Inmarsat share based on the aspiring buyer's most recent closing price. That's a meager 27 percent premium to where Inmarsat was trading before the bid interest leaked.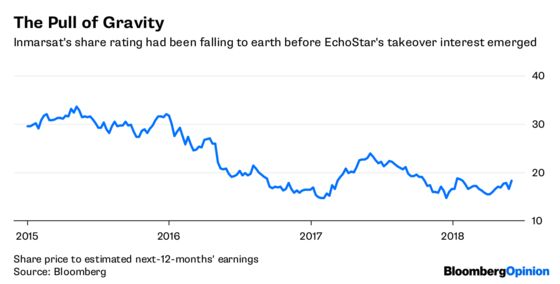 True, the premium rises to 40 percent when based on Inmarsat's three-month average stock price. But that's deceptive. The shares were at the offer level in January. They then fell, hitting an 11-year low, after the company cut its dividend. Its valuation has gone from 24 times next year's estimated earnings to 17 times since the middle of 2017.
A re-rating of the stock over the coming year would get the shares to somewhere close to what EchoStar is dangling. The market reckons buyers could justify comfortably more than 630 pence a share, the level Inmarsat touched when Paris-based satellite group Eutelsat Communications SA weighed a competing bid last month.
If EchoStar really wants a deal, it could sweeten its proposal again, adding more cash, to persuade Inmarsat's board to extend the deadline beyond Friday afternoon. That would require a meaningful bump.
Or EchoStar could make a full-on hostile bid. That must be tempting given Inmarsat is trading about 9 percent below the takeover proposal. But EchoStar would lose some credibility given its emphasis on obtaining the approval of Inmarsat's board to move forward – and Inmarsat would try to revive Eutelsat's interest as a way of forcing its bidder to pay up.
Inmarsat's last card is the value of a board recommendation. The U.K. is an open market, as bids for Sky Plc and ARM show. Still Britain would probably prefer to have its own satellite company. A hostile bid could succeed, but an agreed deal would be far easier – if EchoStar is serious.