Roger Federer's Heir Needs a PC, Not a Racket
(Bloomberg Opinion) -- Cheer up if your children spend day and night playing video games. They're striving for a real career path. 
ESports, or professional gaming watched by online spectators, has become a serious business, rivaling established sports in the rewards. The prize pool for the annual championship of Dota 2, the top eSports game, grew to $25 million last year from less than $3 million in 2013. That's 45 percent more than for this year's Wimbledon men's singles, the world's oldest tennis tournament.
In a year or two, a Dota champion could be taking home more than the 2.2 million pounds ($2.9 million) Roger Federer earned for winning his eighth Wimbledon title in 2017.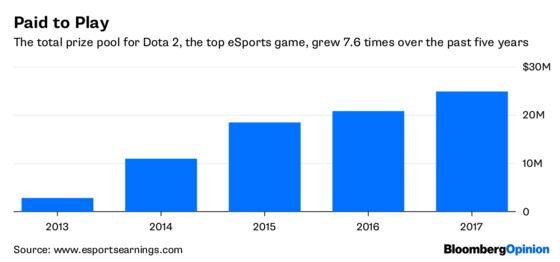 In Dota 2, a battle game developed by Valve Corp. of the U.S., two teams of five players try to destroy the opposing team's structure while defending their own. The Dota championship, known as The International 2018, or TI8, is staged in Vancouver in August.
Hundreds of players have turned professional, in China at least, with clubs sprouting up to fund them. They include Newbee, the second-biggest money earner at last year's Dota tournament, and LGD, which in April entered a partnership with French soccer club Paris Saint-Germain.
Clubs employ scouts to recruit fresh talent, housing players under the same roof and even providing nutritionists to advise them, Xiao8, a 28-year-old former champion gamer with the Newbee team, said at a Bloomberg conference in Shanghai last week. Xiao8 — real name Zhang Ning — retired last year after earning $1.8 million from international tournaments.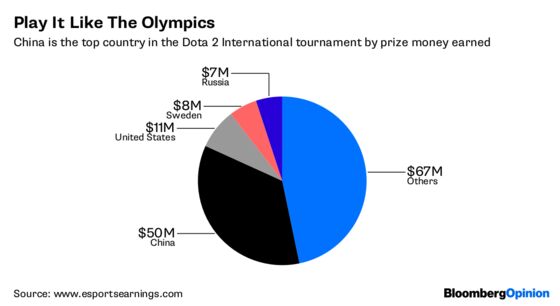 Players eat and live together, train for eight hours a day year-round, and have only short breaks after major tournaments. An entry-level Dota player gets a base salary of almost $1,000 a month — not bad, given that food and housing are already included — while a top gamer can make 2 to 3 million yuan ($300,000 to $450,000) a year. The five-player teams keep 90 percent of the prize money earned at the Dota 2 International, with the club taking only 10 percent.
Broadcasting the games is also a lucrative business. In China, eSports are livestreamed on popular apps such as Douyu and Huya, which rely for revenue almost entirely on sales of virtual items that fans buy to send to their favorite broadcasters. For example, it costs 500 yuan to send a "rocket" on Douyu, or 2,000 yuan for a "super rocket."
Last year, the 100 most popular broadcasters contributed 23.5 percent of U.S.-listed Huya Inc.'s total sales. Assuming a 50-50 revenue split — the industry standard — they would have netted more than 250 million yuan between them, not counting income from exclusive contracts signed with the platforms.
As in any sport, only the top personalities make that kind of money. To reach that tier, you have to be a former star player like Xiao8, extremely witty or "smoking hot," according to Haitao (real name Zhou Lingxiang), co-founder of eSports media platform ImbaTV, which counts Sequioa Capital China as an early investor.
Fans are also powering the championship pot. Valve contributed only $1.6 million of the $24.7 million prize pool for last year's Dota 2 tournament. The rest comes from sales of virtual decorations for gaming avatars, with the publisher donating 25 percent of the take from its so-called Battle Pass to the pool. That means that privately held Valve netted at least $60 million from sales of these vanity items last summer.
Small wonder, then, that publishers these days consciously bake in an eSports component when designing new games. After all, the top seven eSports titles are among the top 15 highest-grossing video games globally. 
The livestreaming platforms are growing at breakneck speed. Huya's revenue jumped 174 percent last year and is forecast to double again this year. The company's shares are trading 167 percent above their May IPO price, giving it a market value of $6.5 billion. Internet titan Tencent Holdings Ltd. invested in both Huya and Douyu on consecutive days in March.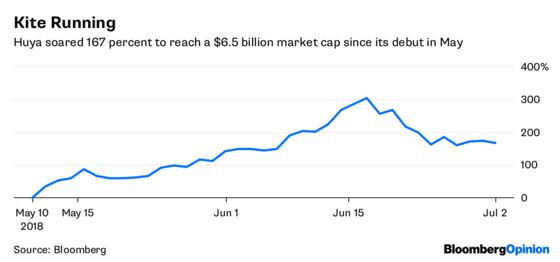 Aspiring parents hoping to nurture the next Federer or Tiger Woods sometimes buy their offspring rackets or clubs when they can barely walk. Seeing the swarms of fans seeking selfies with Xiao8 as he left the Bloomberg conference room last week, maybe they should invest in a PC instead. In future, it may pay more to be a mega-nerd than a jock.