Boeing Goes on the Defensive With Embraer Deal
Bloomberg
Opinion
(Bloomberg Opinion) -- Boeing Co. has learned the value of the axiom "If you can't beat them, join them."
The $194 billion company on Thursday announced preliminary terms for a commercial aircraft joint venture with Brazilian regional-jet maker Embraer SA. Boeing bills the partnership as an "evolution" of years of collaboration between the companies on research and the KC-390 military cargo plane. I'm sure it's just a coincidence that Boeing decided to more formally crystalize the companies' relationship after rival Airbus SE took a majority stake in Bombardier Inc.'s C-series program and put a spotlight on the regional-jet hole in Boeing's lineup.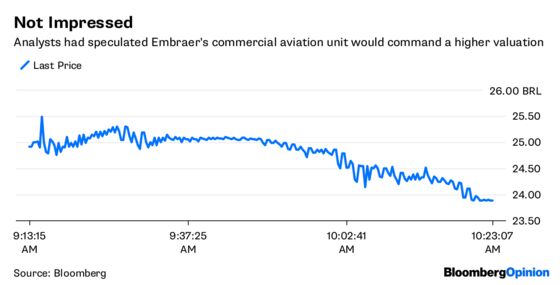 Embraer will retain its private-plane and military units, a structure that appears aimed at appeasing Brazilian regulators who had the power to reject a deal and view the planemaker as a national industrial champion. The joint venture with Boeing values Embraer's commercial aircraft operations at $4.75 billion, more than the entire company's market value at the end of last week. Embraer's stock drop on Thursday suggests its holders were still expecting more. Rightly so: Commercial aircraft made up almost 60 percent of Embraer's revenue last year, but it was the only division to have positive operating income in that time frame.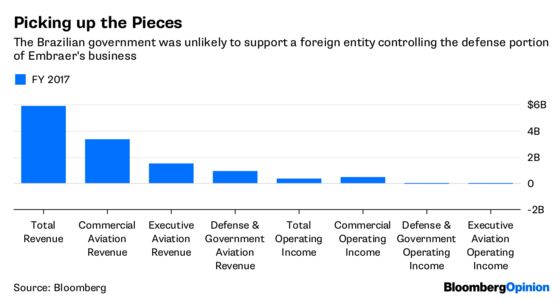 That said, it's a good outcome for Embraer, which would have struggled to compete against the scale and marketing reach of a combined Airbus-Bombardier on its own. Boeing is expected to pay cash for its stake, according to Reuters. It's a fine enough deal for the planemaker, but it comes across as a defensive maneuver. Recall that not that long ago, Boeing was dismissive of the small aircraft market, saying the profit dynamics weren't "terribly attractive." It also turned its nose up at the Airbus-Bombardier tie-up, calling it "questionable." And yet now it wants shareholders to view the Embraer transaction differently.
The irony is that Boeing itself set in motion the chain of events that required it to have a toehold in regional jets. It accused Bombardier of using Canadian subsidies to unfairly compete for a Delta Air Lines Inc. contract, despite the fact that Boeing wasn't a legitimate contender for that deal in the first place, as illustrated by its need to gain control of Embraer's regional-jet lineup. It persuaded the U.S. Department of Commerce to slap hefty tariffs on Bombardier. Those were eventually rescinded by the International Trade Commission, but in the meantime, Boeing's bullying pushed Bombardier into Airbus's open arms. Airbus paid nothing upfront for its stake in a C-series program that now looks a lot more lucrative with less fettered access to U.S. markets.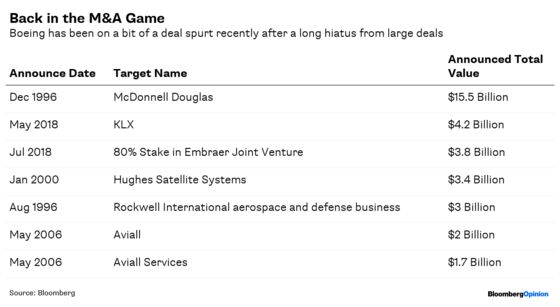 Boeing says the Embraer transaction will not affect its 2018 financial guidance, capital deployment strategy or commitment to return roughly 100 percent of its free cash flow to shareholders. That will be a key point for investors. Even so, this deal takes Boeing in a different direction from the one shareholders had counted on, and it should be a bit jarring that the company would reverse course to prioritize a market it so recently looked down upon.
The Embraer transaction doesn't do that much for Boeing's goal of building a $50 billion business focused on higher-margin sales of parts and after-market services. Perhaps the biggest benefit on this front is Embraer's lower-cost manufacturing capabilities, which Boeing could take advantage of as it brings more parts work in-house, notes Canaccord Genuity analyst Ken Herbert. That's an interesting value proposition for a company that earned a "God Bless Boeing" acclaim from President Donald Trump about a year ago for its American manufacturing and hiring efforts.
Boeing shares were essentially flat on news of the Embraer deal. That most likely reflects some relief that the ultimate cash outlay wasn't higher, but also a realization that this deal is more defensive than offensive.