Beaten Bears Find It Harder to Get Off the Canvas
(Bloomberg Opinion) -- Investors who zig when the market zags have recently received less than zip for their troubles.
In the past year, a contrarian portfolio that invests in the stocks that are least loved by fund managers and bets against their biggest holdings lost nearly 23 percent of its value. That's the worst annual performance in more than five years for a strategy that until recently had produced consistent gains, according to a research note out this week from Bank of America Merrill Lynch. It has also been down four quarters in a row, a first. Two years ago, the same strategy would have been up nearly 17 percent, and more than 20 percent the year before that.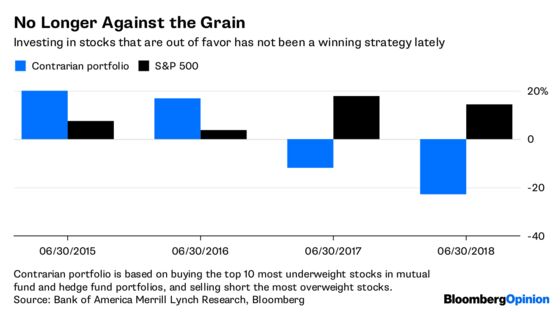 The article seems to suggest that a good portion of Einhorn's poor recent performance is due to a lack of focus on work, citing daily naps, a poker hobby and a recent divorce. That might be a factor, but the true reason is probably more typical: Value investors and contrarians like Einhorn, particularly the best ones who stick to their style, tend to underperform at the height of bull markets. That was certainly the case in 1999 and to a lesser extent in 2008.
Nonetheless, the fact that contrarians are continuing to get creamed is a little odd this year, when the market has seemed rockier than it has in a while. But as much as this year's market feels much different from last year's, with the S&P 500 up just 2 percent compared with 22 percent in 2017, it's more of a pause than a reversal. High-priced tech stocks, like Amazon.com Inc. and Netfix Inc., are still the best performers. Consumer staple stocks continue to be left behind. The S&P 500 Value Index, for instance, is down 2 percent this year, while the growth index is up nearly 8 percent.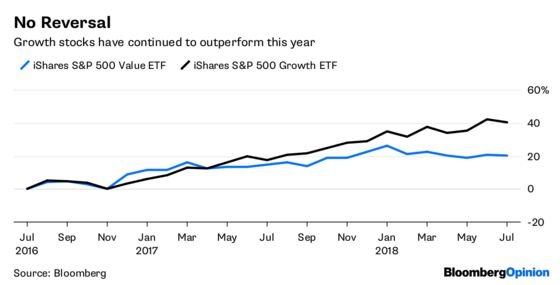 Index funds could be playing into that as well. Less money is chasing hot stocks on the way up, and less money is running for safety stocks on the way down. Instead, in a world dominated by passive investing, to oversimplify, you are either in the market or you're out. That may make it tougher for investors like Einhorn to benefit when the current bull market cracks. Indeed, the divergence between value stocks and growth stocks doesn't seem as big as the difference between value and growth investors' performance. The price-to-earnings ratio, based on the past 12 months, of the S&P 500 Value Index is 17.5, not far from the 19 it was in late 1999. The growth index, however, was 45 then, compared with 24 now.
That suggests the increasingly divergent fortunes of the market's haves and have-nots are signaling that the market is shifting fundamentally and not that the battered bears are about to get their second wind.