Glencore Is Whacked By Washington
(Bloomberg Opinion) -- Glencore PLC's shares have long suffered from a "DRC discount." Investors have been spooked by the prospect of its mining operations in the Democratic Republic of Congo — a volatile country with a reputation for corruption — landing the company in hot water one day.
Analysts expect that the Swiss-based mining and trading group will generate about $26 billion of free cash flow over the next three years. But its market value is only 8 times this year's estimated earnings. And, as of Tuesday, its stock-price markdown has a new name: the "DOJ discount."
Glencore said it had received a subpoena from the U.S. Department of Justice demanding that it hand over a decade's worth of records on its activities in Congo, Venezuela and Nigeria. At issue is whether it complied properly with anti-corruption and money laundering statutes. The shares tanked as much as 13 percent after its statement.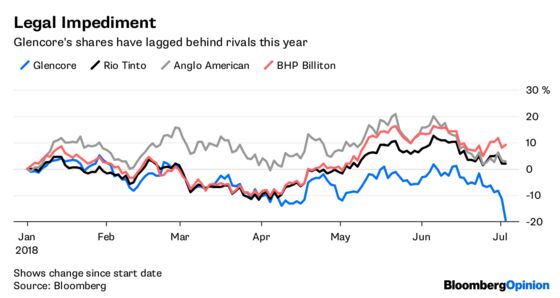 Yet anyone who has bought London-listed Glencore's shares has done so in the knowledge that something like this might happen. Trading 90 commodities in 50 countries means you're doing business in places where bribery is not uncommon. In its 2011 IPO prospectus, Glencore summarized the risks as follows:
Glencore's marketing operations are large in scale, which may make fraudulent or accidental transactions difficult to detect. In addition, some of Glencore's industrial activities are located in countries where corruption is generally understood to exist.
Congo (where Glencore has copper and cobalt mines) and Venezuela and Nigeria (where it traded oil) all rank near the bottom of Transparency International's Corruption Perceptions Index. 
It's also been clear for a while now that Dan Gertler, an Israeli billionaire and Glencore's former business partner in Congo, is persona non grata in the U.S., which put blocking sanctions on him in December. Bloomberg News reported in May that Glencore might also face a bribery investigation in the U.K. over its dealings with Gertler. Both Gertler and Glencore have denied wrongdoing in relation to securing valuable mining investments in the country.
Yet Glencore has been trying to assure investors that the Gertler situation is under control. It severed ties with the tycoon last year. Then — somewhat strangely — it resumed royalty payments to him last month, on the rather hopeful proviso that they would be paid in euros rather than dollars. The unstated implication was that this arrangement had the tacit blessing of the U.S. Part of Glencore's argument no doubt centered on the possibility of important Congolese cobalt mines falling into Chinese hands. 
If it's true that the Swiss giant had got the okay from American officials, then it appears that various parts of the U.S. government aren't singing from the same hymn sheet. The Office of Foreign Assets Control, which oversees enforcement of the economic sanctions pertinent to the Gertler case, is part of the U.S. Treasury — not the DOJ. Yet the latter has form when it comes to Congo. In 2016, it issued a $213 million fine to hedge fund Och-Ziff Capital Management Group LLC related to the bribery of officials there.
It's not clear whether Glencore faces a similar investigation, but investors must think it's a possibility give the sudden selloff on Tuesday.
In some ways, the timing of this is fortunate for Glencore. In 2016, short-sellers were betting that the company's mountain of debt might cause it to collapse. Net debt is now a more manageable $10.7 billion, or less than one year's earnings. So it should be able to cope with even a very large fine — painful as that would be.
But whether you call it the DRC discount or the DOJ discount, the valuation markdown looks like a permanent feature of Glencore's landscape.